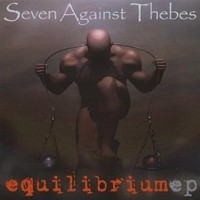 Seattle 4 piece Alternative Metal band Seven Against Thebes (7AT) www.7at.net just released their long awaited debut 5 song EP sampler entitled Equilibrium in January 2011. Seven Against Thebes or 7AT consists of Cyrus Rhodes (guitars) Bruce Burgess (Drums) Dave Black (Bass) & Rusty Hoyle (vocals). Here we go another grunge spin off right? Nope – quite the contrary.
What I heard was some of the best new music I've heard in quite some time. 7AT definitely takes us back to the mid nineties Seattle post grunge hey day when Pearl Jam & Alice in Chains filled the atmosphere. The vocal touches of singer Rusty Hoyle are impressive. He's obviously a stereotypical frontman with a vocal persona that is both entertaining & not to over the top. Drummer Bruce Burgess has all the Dana Carey skills you could possibly imagine, while guitarist Cyrus Rhodes delivers some amazing fretwork. What I like the most about 7AT is how well they sound like themselves – not really trying to sound like anybody else. You can definitely hear brilliant flashes of classic Stone Temple Pilots, Tool, Alice in Chains & even Deftones, but in a way that's so subtle. The 5 song Equilibrium EP literally kicked my ass & melted my face, never once letting its guard down. In fact the more I heard the more impressed I became. This is one of the hottest new bands in 2011, delivering solid musicianship with incredible songwriting. I would go so far as to say 7AT raises the bar within the genera. You want hard rock, you want music that is packed to the hilt with high adrenalin, playing that's hot to the touch. music & lyrical content that will keep you guessing — look no further. It will be interesting to see how 7AT evolves over the years, regardless I will be keeping an eye on them.
The Equilibrium EP by Seven Against Thebes is a breath of fresh air away from the stagnant overly corporate musical forcefeeding we've gotten accustomed to from bands like Nikelback, Lifehouse & Daughtry. I think we've all had enough of that to last a lifetime. Having asdi that bring on the self titled full length CD — ASAP!.
By: Drew Blackwell – IMD STAFF
[Rating: 5/5]