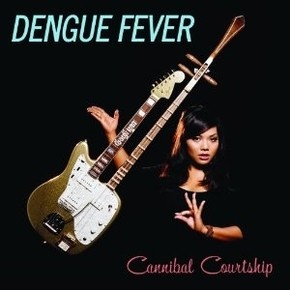 On April 19, Dengue Fever, who serves up an exotic blend of Cambodian rock, Afro grooves, surf, and garage psych, returns with Cannibal Courtship, the group's first studio album since 2008's Venus on Earth and their Fantasy Records/Concord Music Group debut.  
"Cement Slippers" is available here:
With 11 new tunes, Cannibal Courtship, features songs sung in English, and Khmer (Cambodian). The album also features beautiful backing harmonies by The Living Sisters. With the new album, which features the slinky, spiky rock of "Cement Slippers," "Family Business," "2012″ and "Cannibal Courtship," the band has reached a powerful new plateau, deftly balancing the wide-ranging influences that inform their sound and songs.