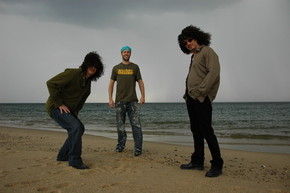 This next interview I did a while back but I could not think of a more perfect time to post. The Grab Brothers Band are made up of two real brothers, Marc & Larry. These guys work hard and they do music even harder. While we are dealing with snow & cold weather these guys are gearing up for a big summer full of live shows all over Cape Cod, MA. It really does not get any better than that. My favorite song from these guys is 'Holly Would." Its more of an anthem than a song and it's off the album, 'Asian Red.' Join us as Grab Brothers Band talk about making music with your brother, getting a deal without selling out, where to see them on the Cape, and much more. You can even grab Grabby Wigs for $10 on their site!
Stoli: Where are we chatting from today?
Grab Brothers Band: We are chatting from Provincetown, MA.
Stoli: Larry & Marc are brothers. When did you two start playing music together and when did you want to start the band?
Grab Brothers Band: We started playing music together when we were teenagers but we didn't happen to form bands till we were about 17 years old. After that we always played and never thought about anything else but music.
 
Stoli: Have your parents & family been supportive and do they love music as well?
Grab Brothers Band: My parents have always been supportive and yes, they love music! Our great aunt was a professional opera singer. So it runs in the family, as we say.
 
Stoli: The Cape is amazing in the summer. What are some great venues for you to listen & play live music?
Grab Brothers Band: Oh boy, there is so many places.   I'll try to give a run down on some. 1. The Land Ho in Orleans and Harwich. 2. Rum Runners in Dennisport 3. Sundancer's in W. Dennis 4. Way Down Town in Provincetown. 5. The Surf club in Provincetown 6. The BBC in Sandwich as well as in Falmouth. 7 The Lost Dog in Orleans. 8. Joe's Barley Neck Inn in Orleans 9. Oliver's /Planck's Tavern in Yarmouthport. 10. Trader Eds in Hyannis..there's a lot more but this can give you an idea.
 
Stoli: Being brothers how do you guys stay on good terms and would you say there is a friendly competition between you two?
Grab Brothers Band: Well we do have arguments but when it comes to playing we know we're on the same team! We just try to better ourselves each time we play and it's been working for us all our lives. As for the competition, our competition is to make you feel what we are feeling in the music.
 
Stoli: You guys have been in talks with some major labels. How is that going and will you be able to keep your vision without having to "sell-out"?
Grab Brothers Band: We have been in negotiations with attorney Barry Reis, who was the VP of Columbia. It's a different ballgame out there and we're looking at other ways and we will be working with Barry in the very near future. We don't need to sell out and will keep our vision but we will have a very open mind and it's good to have outside ideas as well as monetary help.
 
'Asian Red' – http://www.cdbaby.com/cd/GrabBrothers1
 
Stoli: You guys have an amazing live show. How do you guys get ready & select the playlist?
Grab Brothers Band: Playlist? Playlist? Haha great. Well, if the band is lucky they get a playlist. Usually, I tell them what we will be playing and because we know each other so well musically, the band can follow me as well as musically signaling the next song or two coming up.
 
Stoli: Your new album 'Asian Red' is getting great play & reviews. How long were you working on that album and do you make music for the people or is it natural?
Grab Brothers Band: The new album "Asian Red" was a compilation of songs that I had in the so called treasure vault of music stored away. So it is some new songs complied with older songs written years ago, just never recorded. The Album didn't take long to record but took two years before it was released. We make music because it's in our heart and soul!
[youtube NVGx2LU4H9k nolink]
Stoli: I love the diversity & variety in your music. How would you describe your sound to new fans reading this feature?
Grab Brothers Band: Our sound is kind of retro. I call it "Retro for Today."   Like a 70's Jam Band mixed with some acoustical gems. Here's a quote that may be useful.
"The brothers are like an "orchestrated tossed salad" with music emanating from flute, sax, harmonica, trombone, keyboards and electric and acoustic guitars, which gives them that full jam-band sound.
Stoli: What is coming up for Grab Brothers Band and where can we follow you online?
Grab Brothers Band: We are working on a new CD maybe just 5 or 6 songs. Also, we are hopefully planning a North East tour. You can always find out where we'll be playing or any other Grab Brother thing by going to our website. www.grabbrothersband.com and or grabbmusic@hotmail.com.