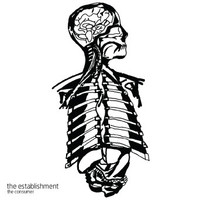 Some people say booze and soft drugs don't mix. The Establishment would probably disagree. The Consumer, their latest, is as much an exercise in highly-charged riffs that could fuel a night of liquored-up madness as it is one in thought-provoking and socially aware lyrics. Throw some deeply penetrating riffs into the mix and you've got an intense listen from this Halifax trio that clocks in at less than 25 minutes.
Don't let the length fool you however; there is as much of a punch on The Consumer as you'll find on any modern protest record. "Atlantis" screams with an urgency that refuses to go quietly into the night, while "Sit And Wait" contains a palpable, '90's slack groove. There seems to be no end to the amount of musical talent that Halifax can produce, and The Consumer proves this notion in spades.
The Consumer will see a very limited physical release, which means fans will have to act fast to get in on this one. And they ought to; full of octane and socially relevant, The Consumer marks the beginning of an indefinite hiatus for the band. This is indeed a shame, but at the very least, The Establishment go out on a high note.
Joshua Kloke – joshuakloke@hotmail.com
[Rating: 3/5]