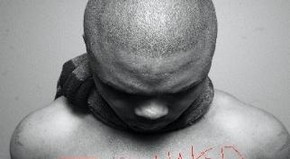 Another Friday is upon us and I could not be happier. Bring on the cold & the snow, nothing can ruin my good mood. My next guest is so much more than just a musician. Todd Love Ball Jr aka TLB is a man that knows who he is and is not afraid to let the world know as well. TLB is a musician, a father, a husband, a fitness guru, an author, and much more. Being that this is Skope it was the music off his album 'The Naked Truth' that made me have to have him on. Join us this weekend as Todd Love Ball JR drops knowledge on his 'Naked Truth', treating your woman right, keeping in good shape, and so much more!
Stoli: Where are we talking from today?
TLB: I am home with my son, in my office area where I do a lot of my writing.
Stoli: When you look back on 2010 what are you most proud of in regards to your music?
TLB: Well I am very fresh to the music world, while I did have a passion for music I just got into putting the music out live. I am the proudest of the steps I took in what I think my future in music will be, and that is doing music in native language of Polish.
Stoli: Your album 'The Naked Truth' out now. How long were you working on that and where did you record it?
TLB: I worked on the album for a few months, my producer who is also a recording artist (Trystian) and I hit the pavement in his studio in a suburb right outside of Chicago.
Stoli: What song on the album is the most personal and revealing about you personally?
TLB: If I can I want to pick 2, the 1st is the Daughter song. A lot of credit is thrown at the mothers in the world doing a good job but sometimes I think the fathers get left out of the equation and I felt this song represented the role fathers play as their daughters get older..not to mention my little princess is daddy's girl. The 2nd is the Polish Love Song. My wife is from Poland and I have fallen in love with the culture, and it says a lot about me as an artist that I am willing to think outside the box.
Stoli: At what age did you realize that you had a gift for singing & songwriting?
TLB: The writing came 1st I was always into fiction and telling a good story since high school. The passion for music took over and I had to transfer my love for writing and entertaining into the music.
Stoli: You carry many hats from your work to family. How do you balance everything and also keep yourself in such good shape?
TLB: Hah, luckily enough for me I have a great support system. My everyday job is fitness and helping people stay healthy mentally and physically so that helps me do the same. My wife keeps everything in order at home, which allows me to spend time with family yet still keep my hobbies in line, if you will. She is the coach of our family team I am the quarter back, and the kids are our star players. We have a great family balance.
'The Naked Truth' – http://www.cdbaby.com/cd/TLB
Stoli: You also have two books out. How does your ability as a writer crossover to your music?
TLB: They are one in the same to me. When I write I am trying to paint a picture for the person to visualize, and the same follows for my music. Using fun and sexy catch phrases in music is easy compared to a whole novel. Each writing side makes the other stronger.
Stoli: You have two children. Do you expose them to your passion for music and do they feel the same?
TLB: Yes we are a music family. Wise man once said, show me a house where there is music and I will show you a house that is content. My daughter is really following into the arts she loves to write as well, but painting is her MO. I think they see daddy into things like music and books, it helps them grow and not be afraid to show their artistic side.
Stoli: I love your attitude and ideas about chivalry and having a good attitude. How can people who are going through tough times help ease the tremendous stress?
TLB: I think people these days are caught up in material things and materials have become the measure for happiness. When we are comfortable with ourselves then material things become obsolete. For me the best way to feel good about myself is to make others feel good about themselves…and that is not a brown nosing comment try it, it really works…if you are a good person ;-)
Stoli: Your have a song called "Why Men Cheat." What made you write that song and what can women and men do to keep their love hot & sexy like when they first met?
TLB: Hah! You know I got in the most trouble from this song. I actually came up with the idea from all the media coverage adultery has been getting in the past years. It's a shame that they cover the scandalous affairs the most but never cover the wives who are doing it right and keeping their men at home. I am a dreamer, why can't you kiss like you first met every time, why can't you grab flowers every now and then, yes original and simple but back to me talking about chivalry, the simple things win every time.
Stoli: What is coming up for Todd Love Ball Jr and where can we follow you online?
TLB: Well starting in March I will be working on an all Polish Album, the polish community in Chicago has really embraced my song and I want to explore that more. I am also going to finish part 2 of my latest book Members Only. Very excited about the opportunities coming, you follow the music, books and more on my site www.Toddloveballjr.com, or facebook name Todd Love Ball-thanks for taking the time~~!