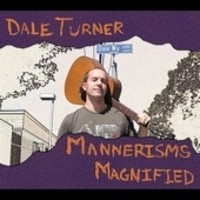 Get ready to hear something so unique & original on Dale Turner's latest project titled Mannerisms Magnified.   Turner wrote all 12 songs on the new album along with being the sole producer, recorder, arranger and performer.   This singer/songwriter & multi-instrumentalist and his one-man-show-band included the likes of: voices & vocal/mouth effects, electric & acoustic guitars, bass, acoustic drums, piano, mandolin, accordion and synthesized/sampled strings.   Not to mention, this multi-tasking musician even supplied the CD artwork and some of the photos.   Obviously the anticipation is high for these Intensified Forms of Expression from Dale Turner, so in the words of Pat Benatar: "Hit me with your best shot!   Fire Away!"  
I have to say that Dale's style on this record is highly original and very creative.   You really never know what to expect from track to track; unpredictability at its finest.   There is an interesting mix of songs here to say the least that really is indescribable.   There is no set style of music here, but I did pick up on elements of rock, alternative and progressive pop/rock.   Two things really stood out here on Mannerisms Magnified and they are: voice and guitar.   The acoustic guitar sound was played upon extremely well while Turner's vocal performance proved to be a noticeable factor.   There was a lot of harmonizing going on and I felt Dale was at his best when he hit the higher octave.   Additionally, Turner played all instruments with ease & precision including a solid drum presence as well.   Something else I picked up on was the unorthodox mode of tempos throughout this entire 12-song set.   Going back and forth between a slow, medium and fast pace was the norm on this record.
Something that really surprised me was hearing some beyond weird voice effects like on track 11 "Exit Wound" where I was thinking to myself 'what the bleep is that!'.   Dale Turner proved that he is not afraid to take risks both musically & artistically.   I, for one, was not in tune with Dale's unique form of music because it's just not something I would listen to.   But that's okay because I'm just one person with one opinion in a world of billions.   I give Turner credit for creating a fresh & original piece of work here, but I just wasn't feelin' it or diggin' it on the whole.   I will end by saying that Dale Turner definitely had his Mannerisms Magnified on this disc; no question about it!  
By Jimmy Rae
[Rating: 2.5/5]