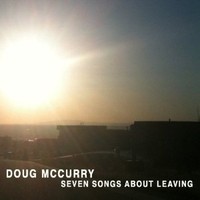 First thing I noticed when checking out this album was the front cover.   Right away I'm seeing a bright sun just shining away like there is no tomorrow.   Of course, this gave me a good feeling as it would anybody I would imagine.   Nothing more positive than seeing that magnificent light of the sun just beaming away for all to see.   So…Doug McCurry has got my full & undivided attention right off the bat.
McCurry is no stranger to the music scene as he has been involved since the 80s as both a musician and producer.   Doug was even in a band called Big Brick Building prior to this where they released 2 records.   After years away from making music, this artist from Charlotte, NC decided it was time to step up to the plate again.   Only this time McCurry would be stepping into the spotlight as a solo act.   'Seven Songs About Leaving' marks Doug's first solo release, so the anticipation is sky high!
I've heard so many music artists that play the one-man-band role and McCurry is no exception.   All songs were written, performed, recorded & produced by Doug McCurry.   A lot of talent being portrayed here as Doug plays to the tune of an alternative rock & pop-type role.   There is really so much going on here musically on the whole that it's hard to sum it all up in a review.   The seven tracks on this album show an incredible amount of substance while supplying the listener with a diversely fresh mix of tunes.  
The first number "Mama Said" starts up fast and ends that way with a heavy rock guitar presence.   I noticed immediately that McCurry had one original voice that would definitely be considered an acquired taste by many.   I, for one, was back & forth with Doug's vocal performance throughout the record, but overall it really seemed to work for him and his style.   Song two "21st Century Car" is hands down my favorite on the album because it's immensely catchy and different all at the same time.   This song has such a cool vibe with the sound/voice effects really making it happen while the acoustic & electric guitar were leading the charge.   Next up is "Mama Said No. 2" where you are receiving a power punch of a sound with the drums standing BIG & STRONG.   On track four "October Rain", Doug's voice seemed to be a perfect fit for this type/style of song.   His vocals blended in quite nicely with a slower tempo and I have to say this production was well done.   The acoustic guitar on this installment added a refreshing element to the whole mix.   On "Dig A Hole", McCurry leaves you feeling melancholy while at the same time giving you something to majorly think about.   The record ends on a calm yet very meaningful note on "Jesus Is Calling".
I have to say that Doug McCurry definitely came through shining on his first solo record, but with mixed reactions.   There were such great moments like on tracks 2-5 for me, but then on tracks 1, 6 & 7 I wasn't completely in the zone.   I believe it has a lot to do with Doug's vocal approach that was definitely original, but hard to read throughout this seven-song set.   This was an album that I simply loved at times but then other parts I could take it or leave it.   On the fence is the best way to describe my thoughts after listening to 'Seven Songs About Leaving'.   I witnessed excellent instrumentation, musicianship and a unique style of music that definitely got my attention.     I can't wait to hear Doug McCurry's next release and maybe then I will not be on the fence any longer.  
By Jimmy Rae (jrae@skopemag.com)
[Rating: 3.5/5]