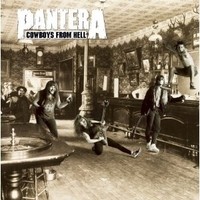 Hard to believe that 20 years ago Cowboys From Hell made its debut changing metal music forever.   Now you can enjoy this 3-disc Deluxe Edition with rare and unreleased demos and live tracks.   I actually never heard the original Cowboys From Hell in full, so I knew I was going to really enjoy this anniversary set!
The first CD is a newly remastered version of the original album and this proves to be the gem of all gems.   Every single song from the start on "Cowboys From Hell" to "The Art of Shredding" had so much damn intensity.   The original lineup includes: Philip Anselmo on vocals, guitarist "Dimebag" Darrell Abbott (R.I.P.), Darrell's brother Vinnie Paul on drums and bassist Rex Brown.   This band proves to sound even better and more incredible 20 years later!  
The second disc includes all live performances that will get you pumped up for sure.   The first seven tracks are recorded at the Foundations Forum in LA back in '90 and songs 8-12 are recorded back in 1991 for the "Those About To Rock, Monsters in Moscow" show.   Right away you will pick up on the insane amount of energy that Pantera unloads onto the crowds.   This ferocious band absolutely rips through their sets with no delays as they feed off of the audience.   You hear Anselmo spewing obscenities left and right by way of his aggressive approach at the mic.   One thing is for certain and that is that Philip Anselmo along with "Dimebag", Vinnie and Rex were gonna make sure that you got your money's worth.   They were determined to not let you leave unless you got the full Pantera experience.   I do have to say that even though the live sets were great to hear I thought the studio versions had a much better sound quality overall.  
The third CD features 12 previously unreleased demos plus a previously unreleased track titled "The Will To Survive".   Yes that's right, a never-before-heard track from Pantera finally released to the public right here!   In regards to the new song, I have to say that I was pleasantly surprised because they weren't their usual wild & crazy selves but still kicked ass.   Overall the demos were awesome to hear especially for a Pantera fan.
What was great about Pantera was that they performed at such a fast & aggressive pace, which could not be matched.   Their level of intensity on stage and in the studio was so high that it was simply off the charts.   You have "Dimebag" shredding away with unforgettable, tough-ass guitar riffs, Anselmo yelling & shrieking with the best of them, Vinnie Paul bangin' away on those drums and Rex Brown playin' the hell out of that bass.   Cowboys From Hell is a very important record because not only did it open up the floodgates for Pantera, but it introduced a new kind of metal sound to the public.   Taking heavy metal music to the next level was exactly what Pantera was doing when they recorded Cowboys From Hell 20 years ago.   This monumental album changed the way we looked at metal music forever as Pantera set the standard for how thrash metal should be played.   Thanks to producer & engineer Terry Date and co-producers Pantera, I would put Cowboys From Hell in the class of one highly influential record and also as one of the top albums of all time in the metal category.   Whether you're a dedicated headbanger or just appreciate good 'n' heavy music, you can't go wrong with Pantera's classic album.  
The music of Pantera lives on as this Texas bunch prove that they still can't be stopped!   There is only one band named Pantera and there will never be another like it.   Besides this killer Deluxe edition, you can also get your hands on a two-disc Expanded Edition & a three-disc Ultimate Edition.   Fans old and new get ready to hear Pantera all over again LOUD & IN CHARGE!   Get your copies today at all major retail outlets or find it all online at pantera.com/rhino.com.  
By Jimmy Rae (jrae@skopemag.com)
[Rating: 4.5/5]