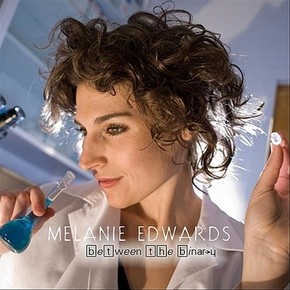 Before we get started today I must let our loyal readers know that Stoli is heading down south for two weeks to escape this crazy winter weather and gain musical inspiration. Before I left I wanted to leave you with a musician from NYC that is not only talented but is very much doing her own thing. Melanie Edwards is a musical scientist and founder of Melanie Edwards Laboratories. I caught wind of Melanie after hearing her single "Daniel's Lane." Her sweet vocals and songwriting ability were so potent I had to have her on Skope. Join us as Melanie Edwards talks about her album 'Between the Binary', what it means to be a musical scientist, and catch her live in NYC on February 4th at Kenny's Castaways!
Stoli: Where are we talking from today?
Lab coordinates are currently situated in the east village, NYC!
Stoli: How did you decide to move from NC to NYC?
Melanie Edwards: It was a long process and involved several moves, after a brief stint as a weather girl for a local news channel in NC, I moved to Georgia, to attend the media and performing arts graduate program at The Savannah College of Art and Design.   Upon graduation, I moved to Austin, Texas, and after a year working in films, commercials, musical theater and television, decided to make the leap to New York City.   It was important to my self-development as a musical scientist, to test the waters and stay afloat in a smaller market, like Austin, before venturing off to the Big Apple, since I knew NYC would be extremely saturated, solitary and downright impossible at times.
Stoli: You got involved in music at a young age. How much of a role did your parents play in encouraging music in you?
Melanie Edwards: My family is a wonderful mix of left and right brain individuals.   I'm the 'daughter of a lit lover, offspring of a medicine man; the concoction for a scientist who will never bite her tongue,' as the first verse of my song LABORATORIUM states.   I sang before I could speak, and both sides of my family are extremely musical and have always encouraged instruments in the house.   My aunt was a piano teacher and everyone was always singing, for that I am eternally grateful, it really set the the premise for being comfortable with music as a home base.
Stoli: You not only excelled musically but academically. Would you say that music helped you develop intellectually?
Melanie Edwards: I can't stress enough the importance of music in the academic world.   It's truly sickening and depressing that there's talk of cutting funds for the arts in school.   Music and artistic mediums are absolutely mandatory, not only for self-development, but for the enrichment of society as a whole.   I recently read an article from Scientific America called "Hearing the Music, Honing the Mind."   A truly brilliant read, and provides even more validation as to why music is critical in the growth of a stronger intellectual capacity.   For instance, it states, "studies have shown that assiduous instrument training from an early age can help the brain to process sounds better, making it easier to stay focused when absorbing other subjects, from literature to tensor calculus."   Musical notation and sounds also allow language to resonate better in the brain, so students have a better chance at picking up foreign languages.   For me, music has helped me develop intellectually and spiritually, as a conduit between the subtext world and this present plane of time.   Music is life's soundtrack.  
[youtube 0_JEjKnr9vQ nolink]
Stoli: Please explain the movement & foundation of Melanie Edwards Laboratories?
Melanie Edwards: Hahaha, there was just a lot of wine and cheese one night.   Truly, as a musical scientist I'm constantly toying with chord structures, wordplays, subtexts and colors within my own laboratory.   So how does raw passion and love sound?   And what ways can we show deep magenta and eggplant color schemes, via musical notation?   Things like this are how I work within my own lab, which I recently developed, conveniently called Melanie Edwards Laboratories. This is where I host all of my experiments, usually a thread of obstacles or inquiries resonating within, and where I execute these hypothesis or theories.   Just as a NASA technician would document findings with charts and graphs, I'm using my keyboard and violin as a microscope to further engage in life's mysteries to conjure up results, which ultimately takes the form of my songs.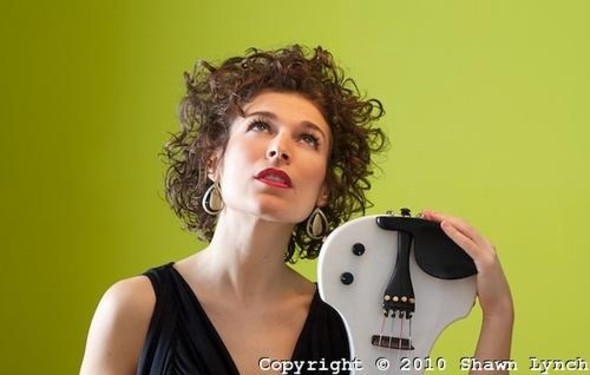 Stoli: I truly enjoyed your album, Between The Binary. How long did you take writing & recording the album?
Melanie Edwards: Wow, thank you so much!   That means very much to me, Stoli!   These songs were born over a four year period, from 2004-2008.   I wrote the album in 2008, began the eight-month process of recording, producing, mixing and mastering in 2009, and it was released in April, 2010.   Several talented musicians are on the album, as well as the incredible genius of Tom Pastro, who headed the engineering, recording and mixing of the sound and Josh Bonati's amazing mastering skils.
Stoli: I love your song, "Sugar." Please explain what that song means to you?
Melanie Edwards: Thanks again!   "Sugar" is her own woman, for sure.   She's the rebellious teenage girl, painting her toes in her room, and scheming how to sneak out to see her boyfriend, but all the while being adorable, full of life, zest, curiosity and youth.   However, she's got a deep, emotional side, one that doesn't shy easily from full-on expression, even to the point of inaudible lyrics.   Musical expression ensues when words can no longer do justice, like when you're watching a musical on Broadway, and all of a sudden the characters break out into song.   When common dialogue no longer justifies or can hold the power of that moment, well then, the music takes over.   And "Sugar" is about that point when you're pushed up against the wall and there's absolutely nowhere to run, to escape, to flee, so you just wail.
 
Stoli: What is 1 thing unique & unknown that you can share with Skope readers?
Melanie Edwards: Oh my goodness, well there's something ridiculous that happens every, single day to me. I guess people may not know that sometimes, the entire song comes to me (verse, chorus and bridge) when I'm shaving my legs in the shower.
Stoli: Your fanbase has been growing alot thru the album & live shows. How does it feel when you learn of a new fan of your music?  
Melanie Edwards: I feel like I should write a song about how it feels, it's that powerful.   The oxygen, the breath, the force and life of these songs and my work, depend solely on the support and encouragement of my fans, friends and family.   They are who I write for and the reason I do what I do.   To learn of a new fan, read letters, hear feedback about how the songs affect or move people, means everything to me.   If I am reaching people or helping in a situation, there is no greater purpose or feeling on this earth.  
Stoli: You are always playing live gigs in NYC. What is one of your favorite NYC venues and what do you love about playing live?  
Melanie Edwards: Wow that is a hard one, I have a lot of favorite places in NYC, just recently played a full band show at The Living Room and a solo, acoustic gig at Banjo Jim's in Alphabet City. But you know, it has to do a lot with the chemistry between me and the piano and whether it's a new venue or old haunt.   I call them first dates.   Sometimes you'll get on a piano, and it's just not that great, so you'll have a drink or two and leave.   Sometimes, you're maddened by the pure lust one brings to the table, and maybe you make a bad decision and play it a little too soon, and it takes your money and runs.   But, once, in a while, you'll find one that is meant for you, it loves you as much as you adore it and you play each other, backwards and forwards and upside down.   There's one out there, in particular, that I love very much.   But, that's just our little secret.
Stoli: What is coming up for you & where can we follow you online?
Melanie Edwards: Very excited to have tons of projects in the works for the Lab, and we're one week into 2011!   Looking at doing some local touring within the Tri-State area and Washington, D.C.   In addition, I'm honored to be one of the acts joining forces at Kenny's Castaways, Friday, February 4th, to celebrate BR & Timebomb's two-year anniversary. I will also be thinking of recording some of my latest experiments.   You can follow me on social sites, like facebook, twitter and tumblr, all of which are on my website: www.melanieedwardslabs.com.