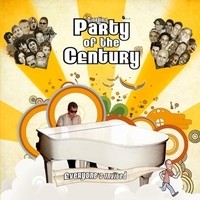 Italy's own Giorgio Onorato Aquilani or Giorgio for short recently released his latest CD entitled Party of the Centur in 2010. During my preliminary investigation of the production I quickly realized the sheer magnitude of this project with its impressive line up of players & various production folk. (Simon Phillips, Bobby Kimball, David Paitch, Greg Phillinganes, Peter Erskine, Steve Gadd, Jonathan Mover, Ron Carter, Leland Sklar, John Mahon, Tommy Emmanuel just to name a few.) If you haven't heard of any of these cats — maybe you should do some homework. You won't regret it.
As to be expected the CD provides some truly amazing moments on it showcasing masterful playing, & world class songwriting reminiscent of the glory days of the late 70's & early 80's. Giorgio touches them all & dabbles in many a genera including Classical, pop-rock, Jazz, R&B, & easy listening. Giorgio gets hi marks for getting his point across despite his accent. Music is in the vein of Elton John, Julio Inglesias, Christopher Cross, Air Supply & even Barry Manilow. Giorgio is an impressive writer as well as superb piano player & solid vocalist all around. Clearly Giorgio is an artist that's not afraid to let it all hang out, & I get the impression he's not only very comfortable in his skin — but they probably had allot of fun making this record.
Party of the Century from Giorgio is an impressive release to say the least. Giorgio delivers music that possesses solid dance grooves, all with subject matter that is upbeat, uplifting, & spiritual in nature. From start to finish this production has a lot of mojo, & possesses no weaknesses that I can hear. My hats of to the entire production team which includes many of the colossal folks listed above (My apologizes if I missed anyone) But getting back to Giorgio there's something truly special & sincere about his music. His music possesses an amazing amount of positive energy, & one can't help but be uplifted by the whole musical experience. It's quite exhilarating. What separates good artist from great ones. Sure talent is a big factor, but it's also about the emotional impact delivered via their music & their overall message. It's also about making that (singer to listener) connection & typically the bigger the connection the bigger the artist. In this respect Giorgio's music is bigger than music. More importantly it delivers a message that is full of life, joy, & hope for all humanity. That's what music is all about.  
By: Drew – IMD Staffer
[Rating: 4.5/5]