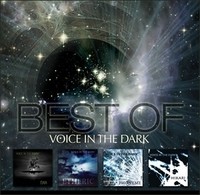 Voice In The Dark is one artist who is a singer, composer and producer.   This appears to be a man of many talents and he proves it on his new Best Of collection.   The San Diego-based musician actually came out with 4 CD's in 2009 titled: GAIA, ETHERIC, PHONEME and HIKARI.   Voice In The Dark obviously is a prolific songwriter and so he wasted no time to put together his best work thus for 2010.   The eight-track set features two songs from each of those four previous records.  
As soon as I hit play on my Dell Laptop and heard the song "Can You Believe" blaring in my ears, I knew we had a winner on our hands.   Right from the start, the music grabs your attention and never lets you go throughout the entire recording.   What I'm hearing here is captivating music that engages your mind, body and soul.   VITD seeks to capture the audience by way of their thoughts and emotions as he attempts to pull a hook, line and sinker maneuver.   This is portrayed wonderfully on track six "How Can We" where Voice In The Dark dares to open peoples' eyes as he asks us "How can we save ourselves in time?".   The album definitely exhibits some deep concepts, but it never comes across as too out there or over the top due to the light & airy effect VITD instills.   There is a perfect mix of pop, rock and even electronic sensations that offer an enjoyable and vibrant listening experience.   You also hear stand-out beats and a powerful voice & overall sound that will get you very excited.   I even picked up on a Peter Gabriel-type vibe both vocally & musically that really intrigued me.   Don't be mistaken here because Voice In The Dark is no cheap Peter Gabriel take-off; he is his own artist with his own voice & style.  
After it's all said and done, I can't say enough good things about Voice In The Dark and his eight fantastic songs.   Loved it…Loved it…Loved it!!!   There wasn't one item I did not like about this album; everything seemed to fit together brilliantly.   From a production, musical and songwriting standpoint, you can't go wrong with this disc.   This CD should be used as an example and it should also set the standard for how a GOOD record should be made.   Professional touch, quality-driven material and a sound that would make any music lover happy; it's all there!  
And don't think Voice In The Dark is going to lay down now since he had four albums last year alone and now a Best of collection; not going to happen!   He and his band are currently recording a live studio album and there's also a new album series in the works that will contain over 30 new tracks!   Look for Vibes, Grooves & Interludes coming in 2011!   Voice In The Dark is on a feverish pace and there is no way that his voice will be in the dark any longer.   I hear him LOUD & CLEAR!  
By Jimmy Rae (jrae@skopemag.com)
[Rating: 5/5]