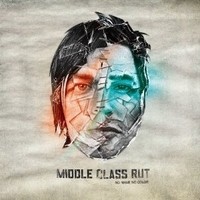 Middle Class Rut are one of the newer groups out there gigging, in the vein of two man groups like White Stripes and Black Keys.   Zack Lopez is on guitars and vocals, accompanied by Sean Stockham on drums and vocals.  
USA is a Ramone's styled rocker.   Are You On Your Way is a slower offering, with vocals reminiscent of a combination of Yes and The Police.   Alive Or Dead is a speed-laden rockabilly meets punk tune.   Sad To Know is on the heavy side, with a dose of screaming vocals.   Lifelong Dayshift is a fast paced song, where One Debt Away is a slower heavy beat groove tune.   Cornered is a slower traitor lyric song that gets the Sgt. Peppers treatment.
The songs are mixed up enough, which is hard with two instruments, not having everything sound similar.   The advantage in constant playing and touring, is the fact that you have more time to experiment and develop material that can be competently performed as a duo.  
It's always interesting to see how groups like this perform the songs live. Many times they opt to add programmed sounds or throw a band together for touring purposes.   MCR is a progressive pop band, and pulls together a sound that isn't dependent on outside forces.  
By RME
[Rating: 3/5]