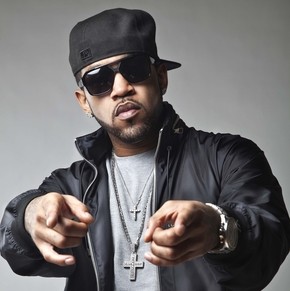 With the release of "H.F.M. 2 (Hunger for More 2), which dropped on November 23rd, Lloyd Banks feels like a brand new artist all over again and hopes to "regenerate the energy from 2004".
"I've been studying the record and I just feel like I am so much better and my ear for production has gotten better over time," says Banks, who also adds that the biggest difference with this record is the "feeling of comfort from recording in the last decade."
 
There are a lot of similarities to the '04 debut of "Hunger for More" and this second installment. In general, the recording and writing processes are similar, including a lot of writing overseas, which he says is fairly positive for him.
 
"To write the music in the hotels, those are the things that put me back home — that's what's influenced me," Banks explains. "'Warrior' [from "Hunger for More"] I wrote that in London on my way to a hotel. I was moving around so much."
 
Music has always been a part of Banks. At around age 10-11, Banks already started "playing around with words", as he says, and was able to see a performance that to this day has truly influenced him.
 
"I seen Tupac the same year, R.I.P.," Banks remembers of his childhood years. "He performed in Jamaica Queens, a couple blocks from my house, and seeing him on stage and watching him…to see the respect from all my peers, I had an in-my-face example as what I see myself [doing] 10 years down the line, and ironic enough, 10 years down the line, I kept that in mind [that] there's somebody in my crowd that is as big."
 
And so enters a driving force for Banks to strive for the best. As Banks rose to the top with G-Unit, his hunger didn't just end there, it persisted. Success is the overall goal, and Banks continues to keep pushing forward but keeps in mind the importance of making music.
 
"Sometimes the business sometimes overshadows the love that needs to be had for the music," Banks explains. "Sometimes people just see the money and you don't have to do that. I wanted to kind of put that to rest."
 
"That's where my hunger comes in," he continues. "G-Unit has a pretty good legacy, but I want to continue on the 'Lloyd Banks' brand — who I am as an artist."
 
We all understand that not everyone can make it in the cutthroat world of the music biz. Some are one-hit wonders, while others go platinum and stay in the game for a lot longer than expected. At the end of the day, an artist definitely wants to stand to be respected and make an impression on their captive audience.
 
"I still want the respect from a few more people, a few more billion people, and not only that, just the respect of your peers [and] music that is embraced by everybody," Banks reflects. "I think I've made the hall of fame, but I have to carry it on. Ruff Ryders, Cash Money…the run that Cash Money had is coming back [with Lil' Wayne and Young Money], and it's a whole new legacy."
 
Building a legacy definitely doesn't come overnight, and for Banks, he's in the studio every single day, being as focused as ever.
 
"My overall message is [I'm] someone who never caved in, never gave up," notes Banks. "I just wanna be somebody…deliver album after album for the next four to five years, and I think I have a bright future ahead of me. When money comes into the equation, I just wanna show that, three brothers from the same neighborhood [speaking on himself, 50 Cent and Tony Yayo] can make it."
 
As for "H.F.M. 2", Banks' "Beamers, Benz or Bentleys" single featuring Juelz Santana, which was a monster summer jam, was the first off the album to drop, and has reached gold status. Another hot track, "Any Girl", featuring Lloyd was Banks' second single, which is bringing the anticipation in for the actual album to drop. Other collaborations includes G-Unit fam 50 Cent and Tony Yayo, as well as Raekwon, Styles P, Akon, Kanye West and Fabolous, just to name a few.
 
"It's definitely gonna be a big record," Banks says.
 
With so much going on, one would wonder what Banks has in store next. According to Banks, the acting bug has been attracting him more and more as of late, as his music videos have been using a lot of "cinematic features" in them. As early as next year, don't be surprised to hear that Banks' will be in a feature film coming to a theater near you.
 
In addition to acting, Banks also wants to learn how to speak Spanish fluently, as he has family from Puerto Rico.
 
"I think that would be dope to be…to not just rap, but be one of the dopest," says Banks. "As far as slang goes, I don't want to rap regular, I want to speak Spanish and learn how to swim."  
For more info on Lloyd Banks, check out www.thisis50.com or
www.lloydbanks@twitter.com.
Author: Erika Y. Gradecki – egradecki@hotmail.com