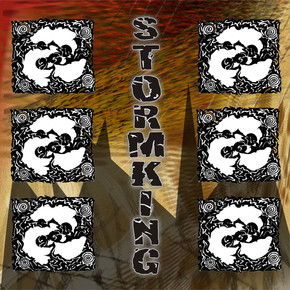 This has got to be one of my favorite weeks of the year. If you are like me you are taking a four day Thanksgiving weekend. I am heading up to New Hampshire so you know I need to bring some authentic rock N roll with me. My next guest is the real deal and some know him as Duke Adkisson but I know him as STORMKING. I caught wind of him after listening to his 12 track self titled album. With catchy songs like "THNX" and "Rainy Day Lady" and a website that ends in "666" I knew there was more to this musician. Join us this Thanksgiving week as STORMKING shocks us all!
Stoli: Where are we talking from today and how is the weather where you are?
STORMKING: Olympia, WA—the Pacific Northwest has passed into one of the most beautiful seasons as Autumn here is usually sunnier and drier than Spring—so 70+ days and clear nights—great fireside times.
Stoli: Offer readers a brief glimpse into your music endeavours before starting Stormking?
STORMKING: First professional gig at fourteen— some years doing the cover thing—international touring with a jazz-pop-rock show—just enough classical study to screw me all up—a great run with Love Lies Bleeding (Seattle)—then after a brief hiatus…STORMKING…
Stoli: How did you come up with the term Stormking and how does it apply to you?  
STORMKING: STORMKING is a peak in the Cascade Mountains—the title intrigued me, as to who/what the Stormking is—STORMKING the song is that sound and story.   After a live performance of STORMKING a particularly intense individual laid it out loudly anouncing, "…dude, you are the Stormking…"…that was it, the project became STORMKING.
Stoli: How are you feeling about the new album and the response and where can readers grab a copy?
STORMKING: It's tough not to micro-critique the music/performance when the creative process is put into a static mode—but the LIVE version will be a further evolution.   Get it at CDBaby, I-Tunes, Rhapsody, and all the usual soc-I-net-working books and spaces—test-drive before you buy sites.
Stoli: Are all 12 songs on the album new or have you had them for a while?
STORMKING: The songs age from two years to eight months—all are from a larger bank of material I have been working on since 2007.
Stoli: Are you concerned about the fans who will not buy the album but rather download it for free online?
STORMKING: At this stage of the game exposing STORMKING to as many people as possible, across the widest   spectrum of genres is the way…obsessing   on the mighty $$$ can-will-and does kill some excellent music.
Stoli: What song on the album is most personal to you & why?
STORMKING: To tough—each song is so different in inspiration-performance-personnel-and production I find myself fully invested everywhere—changes everyday.
Stoli: Everyone is so curious about Duke Adkisson. Will there be a visual video featuring a track so we can see more of the man behind the music?
STORMKING: The rate STORMKING is catching attention feels fantastic, and has increased the pace of creating "supporting media"—but "pushing product" can have the same effect as going OCD on $$$—it has to take the project to a higher ground.
Stoli: What do you think when you see the American people getting laid off and losing their homes?
STORMKING: It burns me up—seems some folks forget society is a pyramid…if they keep blowing out the foundation they will end up on their heads—it is the same thing as candidates who speak to us all as "WE", and when elected suddenly morph into incumbents who refer to "ordinary Americans" like we're the ones on the "other" side of the tracks—I think the smolder is beginning to spark…
Stoli: I love your song, "Rainy Day Lady." Who and what was that song written for?
STORMKING: The "Rainy Day Lady" is Seattle—where I was born—riffs on Hendrix, Perry Como, Bone China (Mother Love Bone), and magnificent landscapes —ends up with a play on an old trick for remembering the streets from Pioneer Square north.   I wanted a one-take acoustic approach, and this take is the first of three—it is rougher than the others, but conveys the emotion and idea.
Stoli: What 2 musicians do you listen to now and admire their music?
STORMKING: I am all over the board everyday with what I listen to—I very drawn to the way SANTANA and SLASH are making some wild combinations of talent work…incredible to create on that level!
Stoli: What is coming up for you and what is bin666.com?
STORMKING: …Satan???…nothing so dramatic…I really-really like hot-n-spicy food—MAS CALIENTE—my family and friends jokingly refer to my arsenal of recipes as BIN666 with the first entry a Camerones ala Diablo that will melt your face.   The focus now is keeping the interest growing, covering the video aspect of the promo, and pushing the live experience to the next level…and of course the new material for the next one…