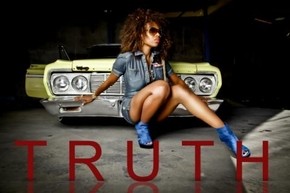 Summer 2002 was a sizzler for pop radio. Nelly and Kelly found themselves caught in a dilemma–ohh!   Diddy–and his then BFFs, Usher and Loon–were busy seeking soulmates in "I Need A Girl (Part 1)." And an onslaught of newcomers–Ashanti, Fat Joe, Avril Lavigne, Jimmy Eat World, Cam'ron, Michelle Branch–all rose to the forefront with explosive hit records.
We were also introduced to Truth Hurts–the former Aftermath Entertainment songwriter turned solo R&B singer–who dominated the summertime airwaves with her infectious hit "Addictive."
The song tromped a bevy of bass-bumping and break-up-to-make-up joints to crack the top 5 of the R&B/Hip-Hop Songs chart.
With newfound success, Truth–who has since shed the "Hurts" from her stage name–was quickly dubbed "The First Lady of Aftermath" and was often referenced as Dr. Dre's protégé.
Amidst the hype of pop radio's celebrated fresh-faces, Truth stuck out like a sore thumb and was–to our knowledge–the only songstress who proudly gloated about her back aching from love making. (Yep, we're pretty certain Branch never made the same claim.)
The DJ Quik-helmed "Addictive," infamously sampled "Thoda Resham Lagta Hai" sung by Indian singer Lata Mangeshkar.
On the track, Truth sang over a mesmerizing Hindi instrumental and mind-fucked her listeners by fusing together dashes of her operatic voice, dancehall rhythm, a haunting hook, and a slick rap feature by Rakim.
As most know, Truth's record label would go on to be served with a $500 million dollar lawsuit by Saregama India Ltd.–Indian music company and film production house–over the use of an unlicensed sample that was lifted from "Thoda Resham Lagta Hai" during the creation of "Addictive."
With her legal woes in hindsight, Truth reflects back on her initial presentation of the track–a birthday present from Quick–with an undeniable sense of fondness.
"Quick called me and said 'I've got a gift for you, I think I've got something that I think might work as your single. It's really different. I think it's you.'" She says.
"And I went over there to listen to it and it was just amazing. I sent it to Dre and he was just beside himself."
The otherworldly track tipped off a Hindi instrumental craze that influenced everyone from Jay-Z to Britney Spears.
"I can't take credit for the movement," Truth laughs. "But we'll say it was a phenomenon and I was definitely a big part of it."
With a smash hit under her belt and Aftermath in her corner, Truth was poised for R&B domination.      
However, Truth's follow-up single "The Truth," failed to connect with urban and pop radio alike. Like a flickering firework streaming across the sky — Truth made a powerful and memorable explosion and then seemingly faded into the wind.
Nearly a decade since "Addictive" commanded the clubs — R&B has been busy ponning de replay and putting rings on it.   Aware of how the game is currently being played, Truth is readying herself to jump back in.  
"The business is very quirky now. It's a different game right now." She states.
"It's very young. It's very electro-pop. I don't feel like I have to fit into that. I have faithful fans and the way I'm selling my music, I don't feel like I have to fit into a genre."
"But, you know, there are some things that I have dedicated to the whole crossover pop world."
"If you want to be super-super-super huge like on the level of Rihanna and Usher, you do have to transform a little bit. You do have to reinvent. And I've done that also. I've reinvented [myself] from my first album, I'm really not who I was on that album."
Truth released two new tracks on the web in October 2010, "Smoke" and "Bullet."
"Smoke" showcases a lovesick Truth comparing her unhealthy love affair to well, smoke… "Smoke, I think it's killing me / Baby, when you light, I begin /   Take a toke and take you in / I begin to choke / And I want some more / Clarity sets in / Can't be more than friends."  
Regardless of its clever (and mildly confusing) innuendos, "Smoke" is a sleeper compared to the manic powerhouse "Bullet."
On "Bullet," Truth boasts about committing a love-driven murder and brashly demands to be handcuffed and arrested. The song embodies an undeniable fire that makes one thing clear; Truth may have been MIA for a minute, but she certainly isn't down for the count.
Look out for Truth's upcoming CD, Stripped — slated for a 2011 release.
By: Chris Carpenter – chrisjcarpenter@gmail.com