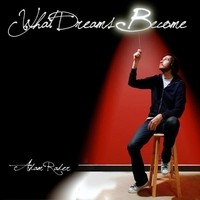 Singer/songwriter Adam Rader releases a two-song EP in light of his upcoming 2011 debut album.   One track is an original penned by Rader and the other is a cover of a classic tune.   It will be hard to judge this artist and his music based on just two songs, but I will do my best.  
Adam definitely has a cool vibe going for him with catchy pop/rock melodies and a fine acoustic sound.   It makes sense that one of Rader's musical influences is John Mayer because I completely picked up on that similarity especially on "In The Ghetto".   This classic number was originally performed by the 'King' Elvis Presley and written by Mac Davis, so Adam Rader had some big shoes to fill.   Rader respects the hell out of "In The Ghetto" from a lyrical & musical standpoint and that is why he chose to cover this particular Elvis song.   The L.A.-based musician also wanted to hear something of this caliber on the radio again; material that exhibits true quality & substance.   That is a far cry from today's pop radio market that worries less about talent and more about image & profit.   I have to say that I would be extremely anxious to hear something GOOD finally on mainstream radio, so Adam Rader has got my attention!   I listened back to the original "In The Ghetto" then Rader's updated version and I have to say that it was a nice 'n' subtle approach.   Adam sped the song up a bit and turned it into a singer/songwriter standard.   I do think that Rader has a very good singing voice and adds in a great style that gives him that modern touch.   However, my only problem with Adam's version of "In The Ghetto" is that it went too far away from the original.   Rader sang it and performed it well, but I feel it wasn't the right song selection for him.   I respect Rader's ability to make the song his own, but for me it just didn't work.   The reason behind this would be because Elvis sang this song during a different time and he performed it with a certain type of feeling & sentiment.   I feel that sense of emotion was lost here due to Adam Rader changing up the pace and style to make it sound more current.   I felt that the true essence behind this song was not captured during the making of Adam Rader's version of "In The Ghetto".     I definitely see where Rader was going here and where he was taking it, but I just don't feel you should mess too much with greatness.   Perhaps Rader could have balanced it out better by staying true to himself as an artist while also staying true to the original.   Listening back to some Elvis classics, I feel "Little Sister" would have made for a much better fit for Adam Rader's style.   This is a song that's fun, upbeat and meant to be up-tempo plus a perfect set up for a singer/songwriter and his acoustic guitar.   This is just a recommendation of course, but I personally would love to hear Adam Rader's interpretation of this hit single.  
Rader's second song has definite pop/rock appeal and is radio-friendly to a T!   "Any Way I Can" is just a fun song that hooks you in.   It makes perfect sense that this track will be the debut radio single off of the new record.   With catchy melodies and a sleek style, Adam Rader seems to have it all figured out!   I can definitely picture "Any Way I Can" all over the pop/rock radio stations of today, so job well-done on marketing this song.   I can even envision a happenin' little video for this track that would get a lot of people excited.  
I see BIG things happening for this artist, but it's too early to say especially with only two songs before me.   Plus, with picking the wrong Elvis song to cover, I am not all-the-way convinced yet.   I do look forward to the 2011 release of Adam Rader's brand new record to see if this young man can make a believer out of me.   And Adam, what do you say to "Little Sister" next time?
By Jimmy Rae (jrae@skopemag.com)
[Rating: 3/5]