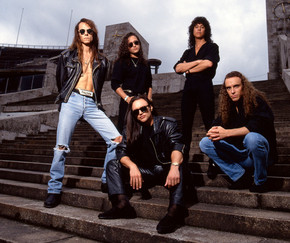 In celebration of the release of the 20th Anniversary Edition of QUEENSRŸCHE EMPIRE on November 9th Skope is posting a stream of RESISTANCE (recorded live at London's Hammersmith Odeon on 11/15/90).
QUEENSRŸCHE – RESISTANCE (Live in London):
Queensrÿche has partnered with Capitol/EMI for the November 9 release of an expanded 20th Anniversary Edition of the band's triple platinum-certified breakout album, Empire. The new 2-CD and digital packages both include the remastered album, featuring six hit singles, including the #1 smash "Silent Lucidity," as well as 13 bonus tracks, among them 10 previously unreleased live performances recorded in 1990 at London's Hammersmith Odeon. The 2-CD package is presented in a lift-top box with five postcards, a fold-out poster and a booklet featuring photos from the band's personal archive.
Photo credit: Ross Halfin