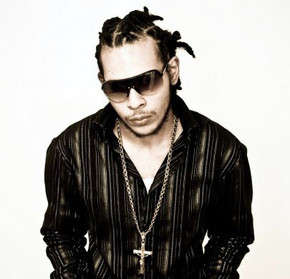 I woke up this morning just feeling good that it is Friday and another weekend is here. As loyal readers know, we featured ABM this week who is the founder of Platinum Trini Ent. Well to help spread the word on the quality music & artists they are investing in I wanted to feature Trinidad's own, Raskal. Raskal is creating serious buzz and digital sales with his single, "I Promise." For all you grooms out there, this song could be played at your wedding, just listen to the lyrics. Raskal joins us via Trinidad as we get to watch his "I Promise" video, the hot clubs he goes to, his advice to the youth, and so much more!
Stoli: Where are we talking from and have you started your holiday shopping yet?
Raskal: We are talkin from Trinidad, and i have not gotten around to doing my holiday shopping at the moment, but as soon as I get a break from studio work and upcomming shows i will.
   
Stoli: Your song "I Promise" is a beautiful song. Who did you write that song for and who composed the instrumentals?
 
Raskal: Well I won`t say I wrote I promise for anyone in particular, but I would say I got the inspiration from past experiences and relationships that had an impact on my life.
The riddim (as we trinis say) or instumental was composed with live instruments by Gary Garnes and a very talented young producer named Jabulani.
           
Gary and Jabulani are head engineers at Back Yard studios, which is one of the many studios I work with in Trinidad.
           
Stoli: For a 22 year old you are very mature. At what age did you realize that you wanted to pursue music as a career?
 
Raskal:   I think because I was the last of five children and my brother befor me is seven years older than I am, so I grew up wanting to be older all the time or else I couldn`t fit in.
           
Growing up I always loved music, all genres and always tried to sing, but I think it was at 12 when I really got determained.
           
And was always telling everyone that i`m gonna be star wen i grow up and i mad up my mind, guess thats all i need to work with.
Stoli: How did you get the alias, Raskal, and how does that name apply to your music?
 
Raskal: I got the name Raskal from high school principal, I wasn`t always the best behaved student in class and she called me "the lil rascal" all the time and I guess the name stuck. Some people would say the name is negative but I think it suits my character and my personality.
           
I like to sing about real life situations in my music, things people can relate to and to deal with everday, not trying to be fake or something which I`m not. So I try to send the same message in my music to be your self and most of all keep it real.
       
Stoli: You recently signed with Platinum Trini Ent. How did that deal come to be and what does that partnership offer your music & fan base?
Raskal: Well as ironic as it may sound, "ABM" who is my cousin, and is also linked with Platinum Trini Entertainment was having a concersation with my mom while she was vacationing in New York, and she just happened to mention me to him because she knew that he was also into music.
[youtube pjGVPg1orWQ nolink]
He asked her for a link to where he can listen to my music, and rest is history. This opportunity offered me a great platform to get my music out to the masses world wide to fans who did not have an outlet to hear my music. Now this has changed due to Platinum Trini Entertainment being linked to Ingrooves/Universal.
Stoli: What time of day and state of mind are you best focused on making music?
Raskal: It doesn`t have a specific time or state of mind, but for me anyting can spark insperation. Just by someone saying a word or something I saw on tv it can be the most simple thing, when I get an idea I work with it and I don`t need to be at the studio.
         
I'd rather have a quiet setting where I can focus properly and mold the song until I think it`s ready, and for me there's no better place to write than in my bedroom.
Stoli: Your music touches on the postive & negative realities of life. How does the beat & instrumentals determine the tone & message of the song?
 
Raskal: Music is all about emotions, depending on your mood you listen to certain types of music. Same thing goes for constructing music, the intrumental sets the mood and the lyrics put the producer's idea in perspective. My emotions at the moment plays a big role in my musical output, same goes for the producer.
Stoli: Where would you like to see your music career in 5 years and how supportive are you friends & family?
 
Raskal: In five years i would like my music to be globally known and on the same level of some of the bigger names in my genre maybe even bigger all with Gods` blessing. My family and friends are very supportive, mabey not from day one but as time passed they saw the determaination and the strife to make it as an artist, so they made sure that they came to my shows and assist me in anyway they can.
Stoli: You not only doing   music but you have a 9-5 as well. Speak on that and how do you balance both music & job?
 
Raskal: I do music full time, its hard right now but I'd rather do someting I love than do something I don't. Music is life.
Stoli: What are some great clubs in Trinidad that you go to for reggae & soca music?
Raskal: Some of the popular clubs I go to when I`m in that mood are Alchemy on a Thursday, Zen on Friday, Godai on a Saturday and Sunday Treasure Queen boat ride always sell off.
Stoli: Lots of kids coming up from Haiti to Boston to Los Angeles see no hope for the future. What words of encouragement can you offer them and how do you see the future?
 
raskal: Well first thing don't forget to keep praying, everyting happens for a reason and we need to take the little blessings that God gives us and use it to better our situation, take nothing for granted. The things you do today will determine your future it is not set, we as youths have to make our future.
Stoli: What is coming up for Raskal and where can we follow you online?
           
Raskal: Well look out for the release of   my new single "I Promise" on Nov. 2nd also look out for me soon in a city near you. You can check me out @ Raskalmusic on reverbnation and follow me on twitter @ Raskal_d_PChild.