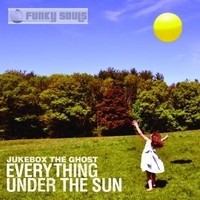 It wouldn't be fair to say that Jukebox The Ghost, a Philadelphia trio, write catchy songs. What would be fair to say is that if all three members had a cold, they'd probably sneeze out a pitch perfect pop-rock records, drenched in the kind of hooks that make modern rock radio programmers drool uncontrollably.
Yes, Everything Under The Sun is a barrage of hooks and pure pop madness, augmented by guitarist/co-vocalist Tommy Siegel's heartwarming croon. It's boisterous stuff and speaks to the redeeming power of a pop hook which can grab you and refuse to let go.
Picking standout tracks is an exercise in and of itself; separating the dramatic rise and fall of "The Sun" from the emphatic stomp of "Empire" isn't as easy as it sounds. These three guys definitely sound larger than the sum of their parts. It's a full-court press on Everything Under The Sun, which naturally, has its drawbacks. Even modern rock radio knows when to take a break. But by the time we hit "Nobody," the album's emotionally-laden closer, it's all one can do exhale.
You could throw a rock at Everything Under The Sun and hit half a dozen pop-rock singles. Of course, you could throw an even larger rock as means to escape. For those who are worried about the oncoming assault of winter, Jukebox The Ghost's carefree yet precise summery vibes may annoy you as much as they enlighten you.
By Joshua Kloke
[Rating: 2.5/5]