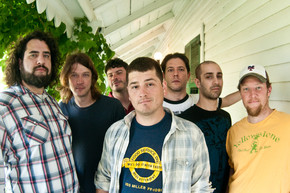 Another weekend is here and it is Halloween on Sunday so I will try not to scare our readers too bad. Actualy my next guests will not scare you but their music will get you up out of your chair and dancing. At first when I heard that there were 7 young men in The Headlocks I was ready for the next Wu Tang Clan. Wow was I pleasantly wrong as I put on the song "Driving In The Dark." I was immediatley taken back by the fun, improvised, high energy sound that these guys are creating. I am just going to let the music speak for itself. The Headlocks are offering all readers a FREE MP3 of "Driving In The Dark." Trick or treat?!
Stoli: Where are we talking from and will you attending any Halloween parties or live shows?
The Headlocks: We just got back to Staten Island from a convention in Lancaster Pennsylvania and played a show at The Bitter End in NYC.   We will be playing a Halloween show at a place called Shillelagh in Astoria Queens
Stoli: There are seven of you in the band. How did you all come together and are you all friends outside the band?
The Headlocks: We are good friends for the most part and most of us know each other since we were in our early teens. So yeah we pretty much love each other and take care of each other. Rob Carey and Frank Duffy have been writing songs and playing for a dozen years or so.
Stoli: How was growing up in Staten Island and are your family & friends supportive of your musical ambitions?
The Headlocks: Growing up in Staten Island was so many things. It was tough, a lot of wanna be gangsters and thugs around. But it was really familial as well.   There was an amazing music scene here in the early 90's.   Big bands would roll through and play in places like The Wave and it wouldn't be uncommon to have a thousand people at a show.   Even better there would be all types of people at shows – from 16 year olds to 60 year olds, everybody having fun and enjoying good times. A couple of the guys – Steve Pepe and Nick Purpora- even played as teens in that scene in the bands Sarcasm and Muddfoot.  
I think at this point our families are very much supportive of what we do.   It was tough in the beginning, but they see we aren't stopping.   Now it's fairly common to see a family member or three in the audience at a show.
 
Stoli: How did the name The Headlocks come to describe & define the band?  
The Headlocks: We were trying to come up with a name for months.   The craziest things were thrown out there.   Frank Duffy and I were listening to the Bob Dylan track "Jokerman" and mistook "padlocks"for "headlocks".   We were in the name searching phase for so long and that one just seemed to fit perfect in the context of that song.   We didn't find out until much later that it was "padlocks".   So our name is sort of more of an accident than most names are.
Sometimes people hear the name "The Headlocks" and think we are going to be a really aggressive band so it's a stumbling block for some to actually get past it and hear what we are doing, but I'd say just as many people say things like   "that's a great band name, I love the name."   And we love the name too…
Stoli: Does Rob Carey sing lead on all tracks and what made you all know he was the perfect lead for the band?
The Headlocks: Yeah Rob sings lead on all of em.   There was never really anyone else up for the job.
The Headlocks "Driving In The Dark" MP3:
Stoli:   I love the album, 'Cuckoo Bird' it has such a fun vibe. What is a recording session like when you all come together and where did you record the album?
 
The Headlocks: In short, we tried to record this album several times over a period of about a year and a half.   Each time some sort of disaster occurred. There is a great in depth article on this album by a guy named Tim Ledwith on NoDepression.Com.  
 
However what eventually came to be Cuckoo Bird was recorded at a place called HardLuck Studios in RedHook, Brooklyn. The only exception is "It's A Wonderful Life" which was recorded in our good friend Ron Hill's basement studio in Staten Island.
 
Hard Luck was a big brick bakery in the 1800's.   The 3 large isolation booths were, at one time, where the ovens sat.   The main room was huge.   One of the largest rooms in the city.   We went in on Friday night and set everything up.   On Saturday we packed everybody in the room – and I mean everybody – and ran through the set.   We did that over and over for the next two days.   Then we picked the best takes over the next couple of weeks and began editing and a bit of overdubbing.   We had about 5 days of overdubbing over the next few months.   But 90 percent of what you hear on the record is live from that first weekend, which I must say was a tremendous blast for all of us…
 
I'm using past tense for Hard Luck because it closed down about a month ago.   One of the last remaining big rooms in NYC is gone.   -weeping-  
Stoli: How long were you writing & recording the album and will there be a video out as well for one of the songs?
 
The Headlocks: We were writing a majority of those songs over about a two year period, and working them out live with different lineups.   One of those songs "Ways and Means" nobody but Rob Carey and Frank Cavallo (our drummer) had ever heard or played, so what you are hearing on Cuckoo Bird is a spontaneous take.   That was the only take of that song during recording.  
 
We are expecting a video from Mike Santoro who is pretty much our Web man, Video guy and Graphic Designer.   He did a video for us a little while back called "Outside Looking In" which is up on our website.  
Stoli: We are offering readers an MP3 of "Driving In The Dark." What does that song mean and how did the concept come to be?
The Headlocks: "Driving In The Dark" is a story song.   Rob took off for several months a few years ago and traveled through the Midwest to Bob Dylan's hometowns in Duluth and Hibbing, Minnesota and all the way from the headwaters of the Mississippi down to Louisiana, working all sorts of odd jobs, playing guitar and singing in strange places.   "Driving In The Dark" is the literal (though greatly abridged) story   of him picking up a hitchhiker in Missouri and winding up in Lafayette LA.
Stoli: Are you all able to do The Headlocks full time or do you have regular jobs as well?
The Headlocks: At the moment, we each have other jobs to pay the bills.   Between working and playing nonstop with The Headlocks it's a wonder any of us sleep; yet we all have hobbies as well. We are a hardworking, long-playing band.  
Stoli: As I listened to your album I could help but envision your live show. What is a live show like with you guys and will you be hitting the road soon?
The Headlocks: We have a lot of fun live.   We tend to vibe quite a bit with the crowd and the crowd obviously becomes an integral part of what happens on any given night.   If we are feeling joyful and relaxed, everyone else is going to leave feeling the same way…   That's usually how it goes.
"Outside Lookin' in" Video:
Stoli: Now that the NFL is in week 6. Are you guys Giants or Jets fans?
The Headlocks: It's pretty varied with us.   Nick is a Giant Fan.  Frank and Joe kind of like The Jets, but they are Steelers and Bears fans, respectively. Rob likes the 49ers, which kind of makes him not want to watch football at the moment.
Stoli: The Internet and satellite have offered music fans so much more music. Do you feel that your band benefits from this and where do you turn to hear new music?
The Headlocks: It's a strange thing.   On the one hand, someone from across the world will randomly find us and buy a CD or stream some songs and send us a message – or maybe someone semi local hears it and winds up at a show in NYC.   On the other hand, it does indeed seem sort of random.   There are probably lots of people who would enjoy our songs, but there is a flood of music out there to sort through- almost too much and it's easy to miss something you may love.
 
When I have the time, I like to do my own searches on myspace (which is actually far better than facebook for actually finding and listening to bands) or I will read a magazine and then take notes and look stuff up that way.   Every once in a while you catch a band live that really hits you, and that's always the best way to get it.   Or a friend will make a mix and pass it along…
 
Stoli: Does being in a band mean fortune & fame or does the music come before anything else?
The Headlocks: I'm not sure if that's what it means.   That fortune part sounds great.   Like I said we all work very hard all around and know well the value of a dollar.   So if and when money comes in from doing music, which is our love and literally an outgrowth of our selves, it will not be un welcomed.   One step at a time :).
Stoli: What is coming up for The Headlocks and where are you online?
The Headlocks: We are working on another album, in the writing and preproduction stages.   We have a ton of raw material we are wading through collected musically from jam sessions and practices and lyrically from books Rob has been keeping in his pocket since he's 15 years old. So another album soon.
You can find us online at www.TheHeadlocks.com, where you can find links to purchase Cuckoo Bird on Itunes or CDbaby.   Links to our Facebook, Myspace and Sonicbids pages are there too.  
Photo By: Mike Shane