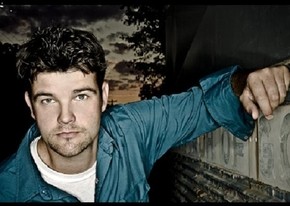 I have always said of contemporary Country: "It is either too 'boo hoo' or too 'yee haw.'" It seems the blue-collar ethos of the genre (Williams Sr., Nelson, Haggard) has either been lost completely or it is cooked and contrived into radio-friendly Country Pop, rife with kitschy lyrics sung by pretty men in boots and big hats.
So naturally, it is a breath of fresh air when you actually meet the real thing–a salt of the Earth, country boy who doesn't doll up to look the part, but one who is the very product of it. And it is that element that makes emerging artist, Lathan Moore the total package. Not only does he have the necessary aesthetics of the contemporary Country artist, he is a native son of the aforementioned blue-collar ethic that places emphasis on hard work and perseverance.
Born in Harrisburg, IL Moore is the son of a coal miner (enter Loretta Lynn jokes here; I did) who cut his childhood teeth on farm work and church choirs. "I just pretty much grew up around the piano of a small country church," Moore said. "It's a small town outside of town and we had horses, mules, the whole farm. My brothers and I all worked in the mines and my father is still there."
[youtube McBYul1nZog nolink]
Moore joined two quartets prior to college, which not only honed his voice but also lent him an ear for country Southern gospel. A music scholarship had him attending Southeast Illinois Junior College and eventually to Wayland Baptist University where he continued to study. "I got hooked up with some musicians that played around Amarillo and Lubbock and they got me into the whole Country scene," he said. "I decided then that it would be a bit more fun to go towards Country, so I started thinking about moving to Nashville and giving that a try."
Now with clear career goals in place, Moore faced a life-changing decision: either remain in Texas at school or pursue his career path. Moore said the decision wasn't that hard to make: "Man, I believe that school is for some people and not for others. I found it hard to devote the time to something that I didn't like, so I got to talking to my folks and my dad said: 'Well, come on back and I'll get you on in the mines.'"
For close to two years, Moore worked the mines with his father. He moved back to his childhood farm to save money to make his move to the heart of Country Music and in 2004 he made the leap. "At first, I was lost. I didn't know where to start and I was homesick and thinking about going home," he said. "I had no idea what I was getting into."
But a chance meeting between friends and local songwriter, Roger West, gave Moore his first break in Nashville. The two struck up a friendship and West set about introducing his new protégé to movers and shakers on the Nashville circuit. Eventually, West introduced Moore to Steve Pope of Blue Steel Records. After a listen to Moore's CD, Pope invited the fledgling artist to Pensacola. "I went down to meet them and we hit it off. They said:' We love you, we want you on board so let's start an artist development campaign.' And so here we are.'"
Moore's first offering from the label is Love in Your Life, a 10-track LP of ubiquitous Country, roots tunes and a little folk thrown in for good measure. Presently residing at number 41 on the Country Charts, the album single "Beautiful Girl" is receiving regular spins on radio rotations. Twang guitar and backing strings open the track with Moore's vocals spinning a yarn of "average Joe" who has very little in life save his "beautiful girl." Ballad-esque "Cornfield Cadillac" is a nostalgic track replete with weepy, bent-note guitar, acoustic strums and "feel good memories" lyrical subject matter. Opening to feedback-laden guitar "I'd Rather Be Lucky Than Good" is a radio-ready honky stomp with more bent-note guitar and lyrics that serve the title well. Telling the tale of a guy who always winds up on the shiny end of things, it is arguably the album standout.
With Love in Your Life, Moore has a respectable first outing and a solid foundation to make his impact on the Nashville and Country scenes. Combining his natural vocal talent, his penchant for hard work and surrounding himself with the right people in the industry, you could just be looking at the next big thing to emerge from Nashville.    
www.lathanmoore.com & www.myspace.com/lathanmooremusic
By: Chris West – cwest@skopemagazine.com