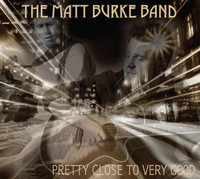 Get ready for an album that offers a lot of good-sounding music for the people. The Matt Burke Band is made up of two musicians: Matt Burke on vocals, guitar, electronic drums, synth and bass & Brue Baker on lead guitar. The duo refers to their distinct sound as "Soulcoustic Beach Rock". I agree with this statement, but it should be stretched out further because there is so much more to this group.
Both Matt and Brue are very good songwriters and they share a passion to make great music. They are both heavily influenced by many different genres of music and that's what makes this record so special. The Matt Burke Band thrives on the energy that they receive when performing for a live audience. For Burke & Baker, it's all about connecting with the audience and then feeding off of that. As artists, I'm sure that is some feeling when fans are diggin' your songs in a BIG way. TMBB write & perform songs for people to enjoy and they also cover material that is easily relatable to the general public.
What amazed me the most was how two men could make it sound like there was a full band of four or more. Matt and Brue are definitely multi-talented and multi-dimensional; that goes without saying. On their debut release, you get a little bit of this and a little bit of that. You can rest assure that The Matt Burke Band will make sure every recording is Pretty Close to Very Good. I will go the extra mile and say that Burke & Baker will strive for perfection and they will not accept anything less.
The album contains 10 high-quality tracks as Matt Burke & Brue Baker invite you to have some fun and join the party! The CD opens up with a track titled "The Weekend War" where you are instantly getting an island flavor and a fun-in-the-sun vibe. When listening to this number you can't help but feel good. As the record spins along, the duo switches it up by giving you some smooth, pop/rock jams. All of the songs are full of life and offer up such a nice flow. On the whole, vocally & musically Matt & Brue are completely in-tune and in-sync with eachother as they are truly feelin' the music. On song four, "Superstar", you are hearing a Latin influence while on track seven I am loving the southern feel coming from the guitars. Their eclectic nature shines once again on "Fading Faces" where Matt Burke appears to be in a funky zone. They decide to close the show with "The Ride" where Brue Baker belts out an impressive guitar solo at the end. My personal favorites on the record would have to be: "The Weekend War", "Fading Faces" and "Superstar".
With a soulful approach on the mic, excellent musicianship and a cooler than ice vibe, The Matt Burke Band got it goin' on. All I can say is that they just make it ALL work! Additionally, the incredibly catchy beats & rhythms stand out to me as being a major force on the album. I couldn't help myself as I tapped my pen on the tray in front of me over and over. I could not control myself from drumming along to the CD as I felt like a third member for a minute–lol. I was hooked for sure and Pretty Close to Very Good held my attention throughout the entire recording. With a radio-friendly & fan-favorite sound, The Matt Burke Band should be exploding on the scene and taking over airwaves very soon!
By Jimmy Rae (jrae@skopemag.com)
[Rating: 4.5/5]