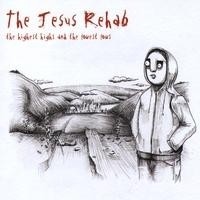 What I heard was here was completely original and nothing like anything else I've listened to before.   The Jesus Rehab brings to you a concept album full of real substance.   Conceptual songs with a real meaning and a real purpose surround this 11-track set.   With a band name like Jesus Rehab they have already got my full and undivided attention.  
The Highest Highs and the Lowest Lows is a follow-up to Jesus Rehab's 2007 EP Scatterbrained.   The new record is their full-length debut release and features a well-known producer by the name of Brin Addison who has worked with the likes of Chris Cornell and Smashmouth.   Brin was even named an honorary fifth member of the band!   Jesus Rehab was created by lead singer, guitarist & pianist Jared Cortese and drummer Pete Kingham back in 2005.   A year later they recruited Pete's brother Andy Kingham to play bass.   In 2007 and in light of Scatterbrained being released, Jesus Rehab added guitarist Dan Laughlin.   Pete is no longer with the group however he did do some drumming on The Highest Highs and the Lowest Lows along with the new drummer Dominic Cortese (Jared's brother).  
The band, at the moment, is now complete as is their overall sound.   Right from the start on "Introduction", the listeners receive a proper introduction from Jesus Rehab.   You are hearing a powerful presence from Jared Cortese both on vocals and piano.   Right out of the gates, Cortese & company are grabbing you and not letting go.   From the moment I pushed play, I also picked up on another strong element which was harmony, harmony, harmony!   Throughout this recording, harmonies play a key role toward Jesus Rehab's success.   For example, on track three "Memories Are Better Than Photographs" you are hearing vocal harmonies that are highly present and extremely effective.   This band also has a very cool rock feel that is very catchy and radio-friendly to say the least.   Overall, I really enjoyed Jared's voice and his vocal delivery; it draws you right in.   Also, the entire band is instrumentally sound and you can tell that they are all very passionate about what they do.   Besides the cooler than cool rock sound and pitch-perfect harmonizing, there is also deep material being touched upon.   Their songs will definitely make you stop, think and fully listen to every word and note being performed.  
In the end, I really dig Jesus Rehab and what they are bringing to the table.   They really captured the true essence of each song brilliantly.   I do have to say though that I was glued to my seat and so in tune and involved with the first half of the album.   For some reason, the second half didn't have that same magic for me personally.   I can't really explain this because it's just what I felt.   I am impressed with Jesus Rehab's efforts here and I am pumped to hear what they come out with next!
By Jimmy Rae (jrae@skopemag.com)
[Rating: 3.5/5]