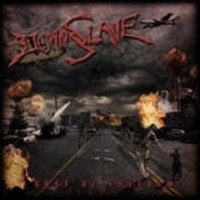 What a wake up call I had this morning when I listened to Downslave's Cost of Freedom on my laptop.   A little after 8 AM and still half asleep, I was in for a loud awakening.   What I heard coming through my headphones definitely jolted my system and at this point I was fully alert.   Nothing like a big glass of metal juice to get your day off to a quick start.
The band is made up of five members: Scotty "Roc" Kirkland on lead guitar, Brad Parker on vocals, Karl Mager on bass, Scott Campbell on drums and Dalton Cochran on lead guitar.   Cost of Freedom follows up their 2007 release of the 5-track EP titled Vision of War.   On the new record, the East Tennessee metal heads were able to get GWAR guitarist Cory Smoot to appear on two tracks and co-produce the album.   There was major anticipation going into this one, so let's see how it all unfolded.
Many of the themes on Cost of Freedom deal with our current state of affairs, war, politics and what is at stake for our world.   The 10-track recording starts up with an instrumental that is both heavy & dark as Downslave prepares you for what is to come.   What comes next will blow you away due to the insanely intense vocals & playing that will hit you with direct force.   The song is called "Unnamed", but I'll name it as fast & wild, in-your-face metal madness.   Parker also proves that he can scream, yell and shriek with the best of them.   Next up is the title track that comes across as highly aggressive and offers up some kick-ass guitar riffs.   Track three, "Total Assault" is properly titled because you're getting just that as Downslave literally tears through their set.   "Pit Approved" is another one that fits because Downslave bring to life an actual mosh pit scene where you can picture lots of people in a circle just goin' nuts.   On track eight, "Brink of Extinction", Brad Parker is pretty much spewing out that the world has to change otherwise we are headed toward a path of destruction.   This harsh reality is put bluntly by Downslave as they bring out all the heavy artillery here.  
I do have to say that musically, I was completely into all of the playing throughout this entire album.   The guitar playing was so damn good and the whole band just blew it out of the water.   The high-powered energy, pure intensity and total aggression are tackled head on and it is hard to miss.   Downslave never lets up on the f'in gas once as this level of extreme & violent strength remains steady & constant from start to finish.   To be honest, I would have liked to have heard Brad Parker bring it down a notch at times.   Don't get me wrong, he sang the hell out of every song but it was a bit too much for my taste.   I think a nice mix of thrashing/scream-fest metal & less aggressive metal would have made for a much more balanced record.   Play it LOUD and get ready as Downslave chew you up and spit you out!  
By Jimmy Rae (jrae@skopemag.com)
[Rating: 3/5]