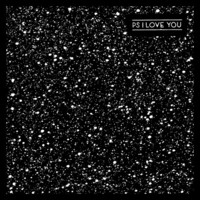 OK. Let's get over the obvious: this fuzzed-out duo out of Kingston, Ontario have the worst possible for their band. Even if Hilary Swank and Gerard Butler hadn't teamed up to melt hearts on film, it'd still be a wretched name. There's no doubt that the band has faced pressure to change their name. Yet they don't, which leads me to believe that they're in on some sort of secret and having a good laugh at everyone else's expense.
Which makes perfect sense, considering that guitarist Paul Saulnier and drummer Benjamin Nelson have secretly crept up and made what may very well be a contender for record "Record Of The Year." It's not just that the noisy, garage pop that PS I Love You play is tight and executed with alarming fury. It's that the conviction and pace of Meet Me At The Muster Station manages to hold absolutely nothing back. This may be the first record of 2010 which manages to make fun music serious again.
The jangly title track, which opens the record goes for the gut with ambitious immediacy. But once the song breaks into a groovy, still fuzzy chorus, we hear a band that sounds so dirty, so unpretentious that you can't help but fall for them. Just when you think it was safe to call this duo something fuzzy and cuddly, they kick things up with the gnarl of "Breadends," which details a bank robbery with startling array of lyrical prowess and sonic carpet bombing.
Other highlights include the epic, attacking rise and fall of "Butterflies and Boners," and the unambiguous sway of "Facelove." But each and every track on the record stacks up well. Meet Me At The Muster Station is full of the carefree vibe that bands try so hard to replicate, but usually end up sounding forced. PS I Love You haven't just mastered the formula; they've created a whole new formula to call their own.
By Joshua Kloke
[Rating: 5/5]