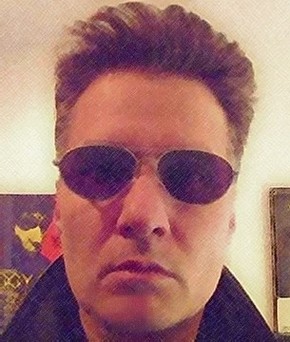 I must say that I am excited today for two reasons. One is that it's the weekend and the other is that Rick Shaffer agreed to be featured in 'Skoped Out.' Rick Shaffer is the other half of the incredibly popular group, The Reds. We are not here to talk about The Reds though as Rick recently released his solo album, 'Necessary Illusion.' Rick was more than inviting as we talk about the new album, staying inspired, Bruce Cohen, and so much more. It's so nice when an artist lives up to the expectations of a real fan!
Stoli: Where are we talking from today, and will you be putting out a Christmas album this year?
Rick Shaffer: Right this minute I'm in my Manager's office in Pennsylvania. I have no plans for a Christmas album.  
Stoli: What does the phrase "Necessary Illusion" mean to you, and how it applies to defining your album?
RS: The title came from a film documentary about Noam Chomsky, where he discussed his concept of political power using propaganda to distort and distract from major issues to maintain confusion and complicity, preventing real democracy from becoming effective, being a necessary illusion.   The perfect example is what the Democrats, Republicans, and Tea Party are doing right now via the news media.
It doesn't define the album per se, but was the inspiration for the title track, "Necessary Illusion," which defines the album's sound and approach to the songs.   Which is a fusion of 60's garage rock and garage blues, heavily influenced by Excello Records (swamp blues), and Mississippi hill country blues, married with early Stones and Yardbirds.
Stoli: How was recording this album different from when you're recording as The Reds?
RS: The main change was that the songs were put down with guitar, vocal and percussion, live, then built from there, in the tradition of artists like Slim Harpo.   Whereas, The Reds, is done somewhat more traditional with guitar, bass, and drums recorded, then overdubs of keyboards, percussion and vocals.
Experience 'Necessary Illusion':
Stoli: How long were you working & creating the songs that would make up this album?
RS: I wrote about twenty songs over a six-month period, from which I selected ten.   The overall project of writing songs, recording, mixing, and post-production took approximately ten months.
Stoli: You have been in the music business for many years. How do you view what the Internet & digital technology has done to change the landscape of the business?
RS: I like some aspects, and hate others.   I like that everything is in my hands.   I can write, record, release an album, then put it on the internet and see where/how it goes.   Since the main part of our focus is licensing songs for film/TV, it allows me to present the music exactly the way I want it to be heard, without a record label telling me how they want the songs to sound, or be presented.   My biggest dislike is that there's no sense of the artist's history, what came before, and substance to the music.      
Stoli: How much did Bruce Cohen offer musically to the recording of 'Necessary Illusion'?
RS: Nothing, this was totally my project. Right now Bruce is living in Miami, working on a side project band, a heavy psychedelic, Hammond organ, jazz trio, called Big Fun 3.   They just released an album on Ropeadope, and are playing live gigs.
Stoli: What is your key to staying creative & inspired after all these years & albums?
RS: The key to it is something I learned from my first producer, David Kershenbaum, which is, to always keep writing and creating new material.   For me, it's discipline and a strong work ethic, in that I work every day with sounds, techniques, listening to different musicians, and being inspired by all types of work, like film, painting, journalism, just every/any type of creative endeavor available.   Take it all in, then have it come back out in my music.     Plus, when I work with other creative people like Marc Almond, Michael Mann, or Peter Murphy I get to look at how they work and it gives me a different perspective of how to approach my own music.   The base line I always return to for inspiration is the blues masters like Howlin' Wolf, Magic Sam, Lightning Slim, for the primal sound and purity.  
Stoli: After receiving great reviews & huge response are you planning on any other solo albums in the future?
RS: I must say that I'm very appreciative of the great response to this album, especially The Reds fans who send messages on our web site, or contact me on Facebook to say they really enjoy the style and sound.   I'm already half way through recording a second solo album, that's continuing in the direction I went with Necessary Illusion.   I've been recording in various studios around the country like in Holly Springs, Mississippi, and in New York City.   I like to soak up the vibes from the different areas, enjoy the local food, and meeting people who contribute their musical feel just by hanging out with them.   And I record in my own studio too.
Stoli: Will there be a tour coming up to support the album?
RS: Currently no touring is planned, but if we did it would be in Europe in countries like France, Italy, Holland, Belgium, Germany, and the UK, which is where the majority of our fan base is.
Stoli: Who are two other musicians, or bands, that you respect & listen to?
RS: I'm assuming you mean from any time period.   So, first, Muddy Waters, for his longevity and entire body of work.   Then, Miles Davis for what he created with his fusion concepts.   But, it's hard to really just name two, because I listen to all types of music, and some of the newer artists like Jack White who creates in a lot of directions and ends up being interesting in everything he puts out.   Or, a new band I've been listening to is Radio Moscow, who I think build off of that 60's energy, which is one of the reasons I like them.          
Stoli: What is coming up for you, & where can we follow you online?
RS: I'm releasing my second solo album early next year.   Bruce and I wrote two songs for a film called, Dirty Step Upstage, that will be released in the Fall.   The Reds are on the soundtrack album, and the film has already won numerous Film Festival awards around the world, including some for the soundtrack.   We contributed songs to two indie films that are scheduled for release in 2011.   We just signed a license agreement with Global Ride Productions to use our songs in their Cycling Fusion videos that combine outdoor and indoor cycling, and, Zoo Vision licensed one of ours songs for a phone APP that's scheduled for release in the Fall.   Every week new projects come into the office, and we sort through what we'd want to be involved with. Plus, Theresa (Marchione), our Manager who has been in the music business as long as we have, thinks nothing of calling up a film director to submit a song she thinks would be a good fit for his/her film.   The very first time she scored doing that was in the 80's when she got to Jack Shoulder and had him listen to "Terror In My Heart," and he ended up using it in "Nightmare On Elm Street 2 — Freddy's Revenge."   Then she managed to hook up with Michael Mann, and The Reds ended up in Miami Vice, and scoring two films for him.   Once she saw that tactic worked there's been no stopping her.   I'm not surprised though, because she started her career working in various capacities with acts like The Moody Blues, Elton John, Orleans, Chuck Leavell & Sea Level, Evelyn "Champagne" King, and Polyrock.   So Bruce and I are open to her ideas because we love working on the unusual projects she finds.   We can be followed on The Reds Official Web Site (http://www.TheRedsMusic.com), on The Reds Blog (http://TheRedsMusic.wordpress.com/), on MySpace (http://www.myspace.com/TheRedsMusic), and I'm on Facebook (http://www.facebook.com/TheRedsMusic).
Thanks, a lot, Stoli.