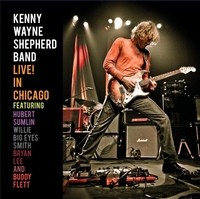 On this CD, Kenny goes back to his blues roots.   This release was recorded at the Chicago House of Blues with his current lineup of Noah Hunt on vocals, Chris Layton on drums, Scott Nelson on bass, and Riley Osbourn on keys.   Some R&B luminaries showed up including Hubert Sumlin, Willie "Big Eyes" Smith, Bryan Lee, Buddy Flett, and Chris's Double Trouble rhythm section partner, Tommy Shannon.   This was recorded during the Blues From The Backroads Tour.
Noah has been a good addition, being adaptable to various styles, even doing a good job on Jimi tunes when the KWS band lit up the stage during the Experience Hendrix tour.   The recording captures some KWS originals, in addition to offerings of material by B.B. King, James Moore, Jimmy Reed, and others; they cover songs by Wille, Hubert, and Buddy who are appearing here.
Somehow, Somewhere, Someway is an energetic version of a KWS standard, as is the slower Blue On Black. B.B.'s lively Sell My Monkey gets good jazzed up treatment here.   I was hoping this included Come On (Let The Good Times Roll) which they kick great live.   Dance For Me Girl is a straight up old blues styling, and features Buddy with Kenny on slide.   The ageless Hubert Sumlin's Feed Me features that great B3 backed groove which you've got to have.   In contrast, harp is used sparingly, which is always a good thing.   Rocking Daddy is also on the KWS touring play list, and the piano clicks.  
Kenny has always had a notion of when to work his way in and out, and not just take off shredding on every song, tasteful, but effective.   If you like traditional blues, you need this disc.   Some of the real blues dudes are here, and backed by a tight band and searing guitarist.   Here's your blues fix!
By RME
[Rating: 3.5/5]