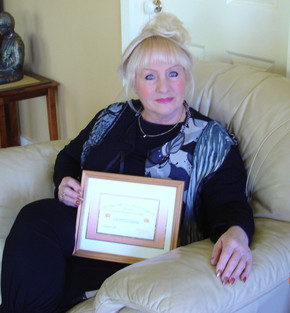 Another weekend is here again! My guest this week shows that music is the universal language and that you are never too old to create music. We are traveling across the globe to introduce Glen Naylor from Victoria, Australia. Glen makes childrens music that is upbeat, positive, and very catchy. I must admit that my son's new favorite song is "The Bonza Bobby Dazzler Bush Band" and Glen has been gracious to offer this song as a FREE MP3 for all readers. Join us as Glen Naylor talks about Australia, raising her wonderful grandkids, working with Chris Wilson, and so much more!
Stoli: Where are we talking from and how has your summer been going?
Glen Naylor: G'day from beautiful Bright in north eastern Victoria, Australia. It is the middle of Winter here and it is snowing on the peaks. We live below Mount Hotham which is the highest Ski Resort in Victoria. Bright is a lovely tourist town nestled in the Ovens Valley and surrounded by spectacular mountainous countryside. Bright is a town for all seasons and is renowned for the magnificent Autumn colours which attracts visitors from all over Australian and around the world in May each year. We have a mob of Kangaroos with their Joey's outside our windows every morning and we hand feed the Kookaburras in the afternoon.
Stoli: How did you come up with the name, The Bonza Bobby Dazzler Bush Band?
Glen Naylor: The title of my album and the song "The Bonza Bobby Dazzler Bush Band" is made up from typically Aussie expressions with Bonza meaning excellent (or little ripper) and Bobby Dazzler meaning someone who is an "expert" at dancing for example (she's a real Bobby Dazzler). The bush band is the story of animals coming from various parts of Australia playing musical instruments and forming aband. The song has lots of Aussie sayings in it too and a Koala plays a Gum leaf which is actually done by people in Australia the leaf is held against the lips and blown onto producing a fantastic sound.
Stoli: What does living & playing music in Australia mean to you?
Glen Naylor: Australia is a wonderful place to live and to write songs about, my forbears and in particular Captain W. Randell was amongst the early settlers in this magnificent country and Captain Randell was the first man to build and launch a Paddle Steamer into our mighty Murray river in 1853 hence, navigating the river and opening up the river trade in those early times. I am currently working on a song about the Murray River. I felt a remarkable historic parallel with Nashville when I was there this year, learning about the riverboat Captain Thomas Ryman (Ryman auditorium) and travelling along the Cumberland River was fabulous it was just prior to the terrible floods in May. I am not a performing artist due to my demanding family responsibilities my husband is a T.P.I. (totally permanently incapacitated) war veteran.
Glen Naylor "The Bonza Bobby Dazzler Bush Band" MP3:
Stoli: How did your grandkids inspire you to create music & pursue it very aggresively?
Glen Naylor: We have raised our gorgeous little grandson from a tiny baby he is now eight and he is my inspiration, every cloud had a silver lining and life has a funny way of balancing things out sometimes. To write, I steal moments in the middle of the night when it is quiet and I creep around like a little mouse at all strange hours. I consider myself extremely fortunate to have the ability to change negatives into positives by turning the hardships of day to day living into something creative especially at this stage of my life.
Stoli: When you started to put your music out there were you surprised by how well received it was?
Glen Naylor: I am overwhelmed having my songs so highly regarded especially in America, by people I consider to be not only consummate professionals with a wealth of knowledge and experience but friendly, supportive, communicative and fantastic guys. I refer in particular to Eugene Foley, Gary Allen and Pat Adams in Nashville. Only two years ago as a first time entrant into any contest I had three songs on the shortlist and one at number ten in the ASA Australian Songwriters Association Contest Lyrics.Gary Allen gave me a Very Honourable Mention within weeks of the music being written and submitted to his contest, once that happened I thought we must be on the right track especially being judged by Gary who has performed with some of the best in the business, therefore the recognition I have received over a very short space of time absolutely blows me away.
Stoli: Does it bother you that the media labels you as "Grandma" or do you like that?
Glen Naylor: My greatest achievement in my life is to have two wonderful children and now I am so lucky to have four beautiful grandchildren three boys and one girl therefore, I am not bothered by media labels such as "Grandma" in fact I am quite proud of it however, grandmothers can be anything from about forty or so through to a much older age, so I do like to keep people guessing!
Stoli: Your songs on the album are no more than 3 minutes mostly. Was that on purpose and what was the thinking behind that?
Glen Naylor: My purpose when writing the lyrics on my album was to keep them relatively short to engage young children with interesting stories and humour the same thing applies to the music. I try to include some aspect of learning in most of the songs, which may be animals, habitats, nutrition, countries etc. Chris and I both feel that it is a bit challenging creatively to relate to young kids so therefore it is like having to look inside and make contact with the inner child. Recently in Melbourne I felt privileged to participate in a master class with Professor Pat Pattison from Berklee on lyric writing. I learnt so much from Pat which I hope shows in my latest work. Pat will be back in Australia in January 2011. I enthusiastically look forward to attending Pats next seminar and learning so much more.
Stoli: As a grandparent how can others like you use music to identify and relate better with their own grandkids?
Glen Naylor:Interestingly, when I have had radio airplay some of the feedback came from grandparents who like myself would rather buy a book or CD for their grandkids people scratch their heads trying to figure out what to buy the kids today.   Music like books is a wonderful way to relate to and interact with kids, I dance around the kitchen with my little boy although the older he gets the less frequent it is becoming, so I cherish those moments.
Stoli: Who are two musicians that you listen to and that inspire you?
Glen Naylor: Short response to this question Miles Davis is my absolute favourite who I listen to at every opportunity and also Stevie Wonder.
Stoli: Is music an outlet to get rich & famous or do you do it as a passion that you love to do?
Glen Naylor: Music has always been a passion but the last two years have been full on particularly writing lyrics, I do not expect I will ever become rich or famous and I do not really want to be as there is much more to life.
Stoli: How did you hook up with Chris Wilson and how does that partnership enhance your music?
Glen Naylor: As a rank amateur coming in at number ten in the ASA Contest Lyrics 2008 which is a very large annual contest for professional writers too, I decided to find myself a co-writer and on the net I stumbled across Chris Wilson of Chris Wilson Recordings Melbourne. Chris agreed to work with me I am in awe of his versatility he is an extremely talented musician who plays many instruments and writes the music to my lyrics and melodies. Chris sings many of the songs, arranges, produces and masters them. We work very well together and listen to and respect each other. Last year I changed direction and wrote an Ode about the catastrophic Victorian Bushfires in which many people lost their lives, hundreds were injured and there was an unimaginable loss of property it is thought that millions of animals may have perished. The song is "Wrap your arms around our Mates" Chris and I sing the song, it was thrilling to be named a Semi Finalist with this song in the U.S.A. by the legendary Mike Pinder (Moody Blues).
Stoli: What is coming up and where can we follow you online?
Glen Naylor: This year brought a change of style and direction writing a country song "Spin my heart" with fantastic vocals by Bec Hance.   I was trying to win Gary and Pats contests in Nashville so I wrote one about their neck of the woods Tennessee , which I guess was a bit like trying to sell ice to the Eskimos. I was a runner up in both contests so I was very happy with that result my goal is to eventually win one with the boys in Nashville. Chris and I have recently completed some new songs with very different styles, a blues ballad "When did you know?" another "Seasons of love"is one of my favourites.   For the kids a little bit of rock with "Rock and rolling Nana" and a geography lesson in "Santa's dream flight".If possible I hope to visit America again in the very near future I have been there eight times now I love the place and particularly the people who are always so warm and welcoming, we Aussies love to travel!
The new songs can be heard on www.sonicbids.com/GlenNaylor   my website is www.bonzabobbydazzler.com.