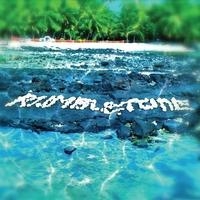 Right away from the cover art, you are seeing a tropical setting complete with palm trees, water and rocks.   On the back cover, you get a serene visual by way of the sun glaring down on the calm ocean waters.   And here's the kicker; Rumbletone is actually from the Hawaiian island of Kauai.   So…it seems that the stage is set for a relax-in-your-hammock-type-record or is it???
The fun-in-the-sun, island vibe that I was expecting from this album never happened surprisingly.   I couldn't have been more wrong as to what to expect from this band and Rumbletone proved that to me.   They also helped me realize to not assume things right away until you take in the full picture.   We all know what happens when you assume, so no need to go there.   Moving along now, what I did hear from this debut release was a lively mix of classic rock and alternative.  
The group is made up of: Paul Ventura on lead guitar/vocals, T.J. Wead on lead vocals/bass, Dale Dombrow on bass/vocals and Mark McKamey on drums.   Ventura is the main driving force behind Rumbletone as he is solely responsible for all 12 songs with some co-writing help from Dombrow on two tracks.   The project is also produced by Paul, engineered and mixed by Ventura & Alan Gaylor and Paul Ventura even supplied the wonderfully scenic photos for this album.  
As soon as you push play, you are hearing cool rock mojo from the Hawaiian natives.   What really impressed me were the awesome guitar solos throughout the 12-song set; no messin' around in this department by Paul.   I'm picking up on a classic, garage band appeal as well as a jam band feel after taking it all in.   The other aspect that stood out to me in a BIG was how well each member played their individual instruments.   All four musicians came together nicely, as a team, proving that band chemistry was not an issue.   Rumbletone jammed out in fury and played like there was no tomorrow.   My only drawback was that the vocal delivery by  Wead didn't match up with the flow & style of certain numbers.   For example, on track five "All About You" I was not diggin' the vocals here at all; the singing just didn't seem to fit for me.   I do have to say though that toward the end of the record, Wead was vocally in tune with the songs and with the rest of the band.  
Honestly, I would have loved to have heard an all-out instrumental, jam session with zero-limited vocals here.   This band has some terrific players with shining moments displayed on this disc and that is why a CD focused on nothing but the group instrumentation would have been perfect.   I also feel that Ventura & company were completely in sync particularly from tracks 10-12, so maybe stick with that formula from here on out.   In the end, I do believe that Rumbletone has a lot to offer with their fast & rollin' tunes.   Get ready for an all-out rock fest from some not-so typical Hawaiian rockers that call themselves Rumbletone.   For more info on the band and the new release, SKOPE out www.rumbletone.org.  
By Jimmy Rae (jrae@skopemag.com)
[Rating: 3/5]