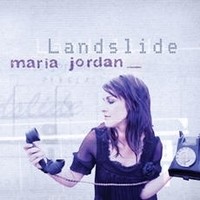 Singer/Songwriters are a dime a dozen, but Maria Jordan proves that she is THE needle in the haystack.   Her new album Landslide proves that Jordan is a genuine-to-the-core artist with definite star quality.   You get real substance here with no filler and the new record will show you why Maria is a mainstay in the music world.  
Maria Jordan wrote all the lyrics on the new album as well as taking on lead vocals and playing acoustic guitar on most tracks.   She even added electric guitar on song eight "I'll be there" that was very well-done.   She even played the role of executive producer along with her drummer Dave Heyes.   The record was produced and mixed by John Kettle who also played electric guitar & bass on most tracks.   All three musicians definitely brought it all together with precision & finesse.  
It's obvious after hearing this album in full that Maria is the real deal.   Landslide starts up with a number titled "Crazy" that has a nice rock feel mixed in with Jordan's pop-friendly vocals.   Right away, you can sense that this style of song would be perfect on any Top 100/pop radio station.   The record rolls along with that same radio-friendliness ringing in your ears.   On the whole, ALL 10 songs are extremely catchy and will definitely attract listeners.   For example, on track five "Soldiers Arms", you're getting a nice & subtle approach by Jordan.   Her soft tone and wonderful voice really draws you in.   The way that Maria sings, especially on this installment, is very inviting and appealing.   This talented singer/songwriter/musician has successfully connected with people everywhere.
In the end, Maria Jordan knew what she & the fans wanted and she delivered.   This album will definitely push Maria forward in the right direction.   Be on the lookout for Maria Jordan because she is about to explode on the music scene!   For more on this artist and her new recording Landslide, SKOPE out www.mariajordan.com.  
By Jimmy Rae (jrae@skopemag.com)
[Rating: 4/5]