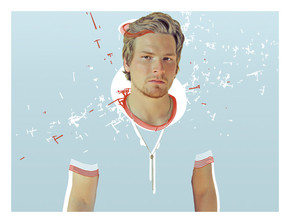 After moving from coast to coast, and spending two years writing and recording, Wakefield singer, Ryan Escolopiohas finally settled down in Baltimore, MD. Taking his pop punk roots to another level, Ryan broke into the indie rock scene with his new project Fox in the Henhouse and their debut album The Fox EP, on iBOT Records.
The bands self-titled album, Fox in the Henhouse, unites his poignant lyrical styling with rollicking guitars to spark a number of crowd pleasers. The album, with standout tracks like "Fears," which appeals to indie rock fans and non-indie rock fans alike, is set to release October 12, 2010.
[youtube y1EG-rALa2o nolink]
Fox in the Henhouse has been recording at Ryan's new recording studio in downtown Baltimore, alongside Wakefield guitarist, JD Tennyson, who has been co-writing and co-producing on this debut full-length record. Ryan's brother, and former Good Charlotte drummer, Aaron Escolopio, and Wakefield bassist, Mike Schoolden assist on the recording of the album, as well.