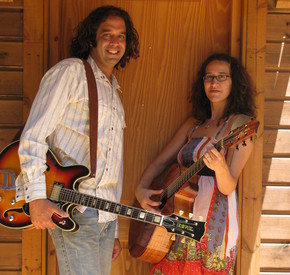 They say that you should not mix work & marriage. But what if your work is music, does that rule still apply? My next guests on this wonderful Friday are breaking all those notions and are making some really great music as well. Just Married is a band comprised of Gary & Lilach Bonanni. Last year they released the well received album, 'For Our Friends' and are about to embark on a US tour. Join us this weekend as we talk abot how they met, having children, the Israeli music scene, and so much more. There is also an MP3 of "Free To Love" to take with you!
Stoli: Where are we talking from today and how is your summer going?
JM: Hi Stoli, first off, it's a pleasure for us to do this interview with you.   We were part of the SKOPE Artist of the Month feature that you do with independent bands/musicians a few months ago and became fans of what you are doing.     The summer has really just started for us as and so far it's going well. We are sitting in Hyde Park, London, on a day off in between shows. Yesterday we played the legendary Bedford in Balham and are getting ready to play the Secret Garden Party in a few days.
Stoli: You two are married. Did you get married before you started recording music or vice versa?
JM:   Actually, we named the band "Just Married" as a joke when we formed the band.   We were only friends at the time and thought it would be a fun concept on our first tour to put a "Just Married" sign in the back of the car with our website and information about our band.   The first sign was magnetic and fell off the trunk within 15 miles from leaving our house.   After that we tried writing on the window which seemed to work much better.     By the end of the tour our friendship was advanced enough that we knew we were actually going to get married.  
 
Stoli: How has the fact that you play music together helped to enahnce your marriage and your relationship?
JM: Getting to make music is fulfilling on its own and we are lucky enough to have someone to share and collaborate with.   It's up to you to as to how it translates to your life as a whole.     There is intimacy in the creation process when you are collaborating and that's probably why there's no surprise to see romances happen within bands or when multiple acts tour/travel together.   Making music definitely brings together facets of problem solving, supporting ideas, give and take, growth and development , love…etc.   And like relationships your managing of these things can be healthy or not.   We've both been in "unhealthy bands" and everyone has had an unhealthy relationship or two.   To be able to work on these things as they translate into music really does help in normal everyday relationship things.   Of course there's challenges but it certainly helps us communicate and work out our stuff.
Just Married "Free To Love"
Stoli: How long were you working on your new album and how did the title 'For Our Friends' come up?
JM: We worked on this record for about eight months from starting the first song to putting the finishing touches on the last.   We went through a number of re-do's where we got pretty close to the end of a song and decided to trash it and start over.   Having your own studio and doing your own engineering and production supports this trial and error method of recording.   The title for our friends came when we had finished the record and were settling on a name.   Being that the record is a concept set around a character named Eugene Eric, the fifth track, it could've easily been the album's title.   But we really wanted to pay tribute to our friends and biggest supporters who have been helping us along the way, giving us beds to sleep in, food to eat and plenty of love on the tours.   So we named our album in honor of them.
 
Stoli: You are constantly touring & playing live. At some point would you like to have kids and will the children join you on the road?
JM: We will definitely have kids.   Both of us want to be parents and are excited for it.   It's a funny/timely question because we've been talking a lot about it lately, how to handle the logistics of being on the road with a child.   We hope the opportunity continues to present itself for us to perform around the world and if it does we know we'll make it work.   This is what we are good at.  
Stoli: You have played all over the world. What are two of your favorite cities that you have played and why?
JM: We really enjoy playing in Jaffa, Israel.   Here is a city that is over 4,000 years old.   Just driving though you can feel the history.   We found a small outdoor venue there that we've played a number of times right above the old port and entrance into the city.   There is an old fallen archway that sits right below where we tune our guitars that is thousands of years old.   With a view of the Mediterranean it's truly an amazing place.   The venue itself has an arched stone ceiling, sort of a covered terrace that is open to the streets.   The acoustics are amazing.     Shmulik , the owner, treats us with the kind of love and respect you just can't forget.
And of course we love playing in New York City.   In particular, the Rockwood Music Hall is our home.   It's a great sounding room with an audience that is there to listen to what you have to say. We've both played there a number of times as Just Married but also in different acts before Just Married ever existed.   LiLach worked there and I lived just a block away and would go visit all the time, this is how we met.     At any time you can see amazing NYC underground greats playing there.     Ken, the owner, recently opened up a "stage 2" next door that is supposed to be incredible.   We haven't been there yet.  
Stoli: You spend a lot of time in Israel. How is the music scene there and who are some cool Israeli bands we should check out?
JM: The music scene is cool.   Musicians in this country are really talented.   There's no question that the arts are supported in Israel and it is a pleasure to play there and experience it.   From the music perspective you have the traditional Middle Eastern music but you also see that there is a love for the Indie scene.   It's a nice crossbreed.   Asaf Avidan and Geva Alon are cool to check out.   Our pals from the band HOLLER! are a Bluegrass/Americana band based out of Tel-Aviv.   They have a great and meaningful song called "Jerusalem" that we love.   LiLach is singing backing vocals on that track.
Stoli: If a Palestinian were to come to your show in Tel Aviv would that surprise you or do you encourage that?
JM: This is a country where there are Muslim people, Christian people, Jewish people, etc.   Everyone is everywhere.   We've done performances in the Shuk (an outdoor market) where everyone and anyone can listen and have had amazing experiences meeting all kinds of people.     It wouldn't surprise us to see any race or religion and we certainly aren't in the practice of sorting out people by how they look or what they believe in.   We believe in sharing the love with anyone through the music we make and encourage all people to be a part of it.  
Stoli: I really respect your independent work ethic. Where would you like to see your music careers go or have you reached that point already?
JM: Thanks very much.   We'd like to see our music in a Cohen brothers film (hahaha — we love them).   We'd love to see our music in film and mediums of that nature because of the exposure and opportunity involved.   To continue to make music for as long as we can is a dream we are making every effort to keep alive.   This is what we love to do and one thing we know is how lucky we are to have the opportunity to do it.  
Stoli: I really like the upbeat and positive vibes in your songs. Would you say that reflects your personality in real life?
JM: Thanks again.   This record," For our Friends", is really a translation of our lives.   Yes, every lyric and line comes from our experiences.   The album is a story/concept about a character who finds himself realizing that in order to be happy his dreams have to be the right ones, or they will never be enough.   He puts himself into the mix of a big city and tries to "make it" only to realize how generic he was becoming, feeling the gripes of betrayal, addiction, attachment to a city that doesn't want you.   Finally he gets out of this place to discover something new – To dream again.   We certainly have felt like this character throughout our experiences and our main effort was to convey that even when you are going through these things there is a positive way to see it and express it.   Obviously there are many ways to handle anything but we truly feel that keeping a positive perspective brings good energy.   Good vibes bring good things.
 
Stoli: I have always felt music is the most powerful medium to unite people. What are your thoughts on this statement?
JM: We agree.   There's music out there that really does that and is timeless.   Look at the things that John Lennon said and the power of his ability to bring people together.   It's obviously not just him but you can go anywhere and catch a live show and be taken by surprise by what someone has to say.   Your life can be changed by these things.   We just played the Bedford and the act after us (the Julian Tulk Band) had something to say to us directly, we felt.     And if it isn't an Indie act playing for pennies listen to Leonard Cohen or Neil Young or Aimee Mann (doesn't the list go on and on?).   It's also the act of live performance itself that joins people that otherwise would have never had the opportunity.     Just in our experiences alone we can say that we've come together with people because of music that we probably wouldn't have in other situations.   There is something really special in that.  
 
Stoli: I really like your song, "Free To Love." What is that songs meaning to you?
JM: Thank you!   Free to Love is a song based on this feeling that things can get you down or make a good feeling fade away.   Or maybe there's something that is causing a doubt that you can't seem to identify completely.     Doesn't life get you in this place sometimes?   In the theme of the record, the character is looking for something to bring back that feeling of being free to find something good.     No more rain, as Paul McCartney would say.   Sunshine come back to me!   To be free to love what's out there to love, that's where it's at, we suppose.
Stoli: What is coming up for you & where can we follow you online?
JM: We are finishing up our tour here in London and then we have a 15 show tour scheduled for the states over 11 cities.   You can check out our tour dates by going to www.myspace.com/justmarriedtour.   We are also on sonicbids where we have our EPK –   www.sonicbids.com/justmarried.     Our record is available on iTunes and CDBaby if you search "The Band Just Married".   We hope you enjoy it.   Thanks so much!
www.myspace.com/justmarriedtour
www.sonicbids.com/justmarried