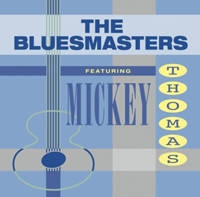 Like a lot of people, I've grown plain tired of rehashed old style blues songs.   After not having heard a stack of such things recently, it really doesn't feel too bad listening to a group of da old blues.   This disc features Mickey Thomas on vocals, best known for his tenure with Jefferson Starship/The Starship.   Aynsley Dunbar is aboard on the skins, playing blues that he honed with John Mayall, before venturing into stints with Journey, Zappa, Bowie, Jeff Beck and others.   Tim Tucker is on guitar, Doug Lynn on harp, Danny Miranda on bass, Rick Ulsky on B3, along with a few guest musicians.  
The band covers the blues spanning the centuries, including classics by McKinley Morganfield (also known as Muddy Waters), Elvin Bishop, Robert Johnson, and Willie Dixon.   The harp isn't overbearing, which is good considering a little bit can go a long way.   The B3 on the other hand, is basically woven in and out, the way it should be.   Mickey's range is right in the wheelhouse with Fooled Around And Fell In Love, the Elvin classic.   Rock Me Baby is well done, always a song that you don't mind hearing covered by just about anyone, including Lee Michaels.   The other Muddy tune Can't Get No Grindin' is given a good once over. The Phil Collins song Get Your Business Straight is included, and also given an American bluesy twist.  
I listened to it through twice.   This is a good disc to pull out to get a shot of the blues when you need some.   You better get one to be ready for the next Stormy Monday blues!  
By R.M. Engelman
[Rating: 3/5]