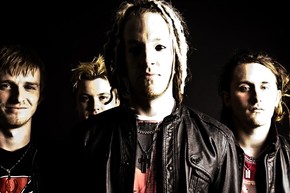 I must  alert all Skoped Out readers that this will be the last feature until next Friday as I will be heading out on summer vacation to recharge the batteries and have some fun! Many people ask Stoli what it takes to make it in the music biz. There is no simple answer but one thing you need is an aggressive approach to succeed. My next guests coming from the UK have done just that. The Culprit have been around for a little over a year and have already released a full length which garnered mainstream radio spins and are now on a two month US tour. I can feel something BIG brewing here!
Stoli: You guys are currently on a massive tour. How is that going and   how have the crowds been treating you?
Culprit: We've just flown in so we start on Friday (16th). We can't wait to get going.
Stoli: What made you guys decide to call the band The Culprit?
The Culprit: Based on getting into various trouble, so the name stuck! When the band was launched it was all done anonymously so no one knew who was involved. The suspense really built up the hype.
Stoli: Where in London are you from and how did you guys come together?
The Culprit: We're currently based in Statford-upon-Avon in the Midlands. We all knew each other through previous bands we played in so we got together and bonded really well. Everything fell into place.
Stoli: After listening to your album I was very impressed. What two songs would you say are the stand out singles for Skope readers to download?
The Culprit: Thanks! There is a link from www.theculprit.co.uk to download two singles, Blackball and What Is Love for free. What Is Love is our cover of a 1983 synth pop song by UK artist Howard Jones. It has been very well recieved in the UK.  
Stoli: What are some things in your life that inspre you to write music?
The Culprit: We've all been musicians from a very youngs age and now there's nothing else we're very good at!
Stoli: I really like track 8, "Dilute To Taste." What is that song all   about and when did you write it?
The Culprit: It's a very dark song about being in a bad place and relying on distractive addictions to convince yourself that everything's okay. It was written in 2008.
Stoli: You guys have done so much in under two years time. What do you see as keys to your success and what drives you everyday to get your music out there?
The Culprit: Persistance. We absolutly love what we're doing and we want everybody to enjoy it with us.
Stoli: What do you think about musicians that are more about the hype and fame than about making meaningful music?
The Culprit: You're likely to get an irate response from us about this. We feel very\strongly about this culture of reality TV and celebrating mediocrity. Bring back the days where celebrity was based on talent and rockstars were rockstars.
Stoli: Do you do the band full time or do you have day jobs as well?
The Culprit: We've still got jobs! We'd love to be able to do it full time. We all work in other areas of the music industry such as production, promotion\branding etc.
Stoli: Are you guys friends away from the band or is it all music?
The Culprit: Of course. Being in a band is the closest relationship you could possibly have, so if it doesn't work you may aswell go and work in an office.
Stoli: What is coming up for The Culprit and where can we follow you online?
The Culprit: We'll be recording a new single when we get back to the UK. We'll also be on tour in the UK in October/November so all blogs will be online. All social networking, news, videos, pics, tweets etc will be available from www.theculprit.co.uk. Tommy, Luke, Russ and S