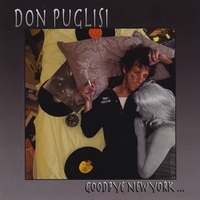 Don Puglisi's new album may be called Goodbye New York but you can rest assure that this singer/songwriter is not leaving the Big Apple any time soon.   Puglisi's playing days go back to the late 80s/early 90s when he was playing guitar at alt-rock and punk clubs all over Detroit.   Since making the big move from the Motor City to NYC, Don now has the opportunity to be his own artist.   Puglisi has loved playing in many bands through the years and he currently plays in a punk-rock band called 253 Boys.   This group is fronted by a British singer and they have just recorded an 18-track rock opera.   So, obviously Don has a rich history with bands but he is now ready to shine under the solo spotlight.  
This project is Puglisi's debut solo effort, so it is ironic that he has titled the new record Goodbye New York.   The new album definitely displays Don's musical abilities in a way that couldn't have been done before.   The singer/songwriter can now step up and be the lead singer performing his own material.   This is something that Don has been yearning for and now it has become a reality.  
The recording includes 9 original tracks and four bonus songs with one being by the 253 Boys.   One bonus cut, "Stoned On The Range", actually is a parody number Don came up with while on the set of "Taking Woodstock" directed by Oscar winner Ang Lee.   The song has a stoned free, country feel where Don is stressing peace not war.   One line during the song, Puglisi actually sings "drop acid, not bombs".   The closing track "New Day No War (rock version)" also includes references to peace without war with a powerful chant right at the end.   On the whole, Don Puglisi has come with a style here that is highly inventive & original.   The speed and tempo is slowed down so much so throughout this record that I would compare this musical approach to that of the great Pink Floyd.   The Manhattan artist mixes everything from folk-rock to alternative and throws in a distinct vocal delivery that will really take you by surprise.   This Don Puglisi seems to have a certain charisma about him that comes across loud and clear on the record.   There is a real sense of realness to Don's voice & his music that is captured wonderfully by the presence of a harmonica and acoustic guitar sound.   The harmonica and acoustic guitar parts were my favorite sections on the album because they portrayed a feeling of down-home-goodness.   Many songs on the recording have what I liked to call a Prairie Rock sound where you can just picture yourself in the Great Plains.   Puglisi gets very subtle and oh so calm on the tracks "Small Hands" and "New Day No War".   On track seven, "A Pain Like This", you're getting some real rockin' moments and then on "The Curse", you're hearing a very dark & sinister tone from Don Pugilisi.  
Overall, I believe this musician has a lot to offer with this solo album.   There is so much substance and so much fresh material to offer listeners on Goodbye New York.   Only thing I would have liked to experience more would have been some more rocked out, faster performances.   With his extensive experience playing in rock & punk bands, I know Don has it in him and I would have loved to hear more of that side.   In the end, this is a solid outing for Mr. Pugilisi and I look forward to hearing what he comes out with next.   For more info, SKOPE out www.myspace.com/donpuglisi.  
By Jimmy Rae (jrae@skopemag.com)
[Rating: 3.5/5]