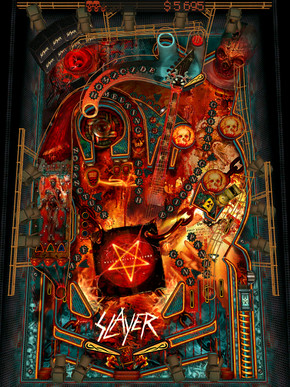 One of heavy metal's   most respected and influential bands, Slayer is about to enter the "app age" with the launch of Slayer:   Pinball Rocks, a new pinball game app developed in conjunction with American Recordings/Columbia Records, Sony Music Entertainment and Gameprom.
"As a life-size pinball player, this looks so awesome," said Slayer's Kerry King.   "It looks really fun and entertaining, with a shot of evil, and it could definitely keep me up all night with a few shots for myself…"
Slayer: Pinball Rocks continues the rich legacy of iconic metal and rock bands making pinball tables, and for the first time extends that experience into the app world in a meaningful way, by offering fans an exciting and realistic gaming experience that immerses players in Slayer's legendary sound and dynamic visual aesthetic.
See a video of Slayer: Pinball Rocks:
Direct link to the Slayer: Pinball Rock: