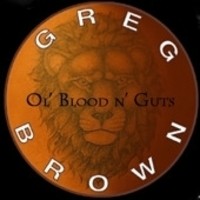 Are you ready for some good, old-fashioned Blood N' Guts brought to you by Greg Brown?   The Boston-based singer/songwriter/guitarist lays it all out on the table for you with nothing left to hide.   Ol' Blood N' Guts is actually named after World War II U.S. General George S. Patton's nickname and the title couldn't have been more fitting for this album.  
Besides Brown spillin' his guts, two other members of the band also will get your blood pumping and they are Eric Klaastad on bass and Bobby Torello aka Bobby T on drums.   Klaastad is a former member of the hair metal band Trouble Tribe and other credits include Billy Joel, Debbie Harry and Peter Frampton.   Bobby T recorded and toured with Johnny Winter back in the 80s and he has also played with Michael Bolton, Grace Slick, Black Oak Arkansas and Thunderhead.   Greg Brown, himself, has been a staple in the NYC club scene as well as his home state of Connecticut since the early 2000s.   All three members are very talented obviously and now they join forces to create an energy-loaded rock record.
The mix of songs includes styles of mainly hard rock combined with a classic rock feel.   The group seems to have a vintage sound but they keep it fresh & grounded for today.   Their classic element is further enhanced by the old-school 1970s Marshall amps that were used during the making of this record.   There are tinges of rhythm & blues in certain songs, but on the whole this is a rock 'n' roll record full of feeling & edge.   Throughout this 9-song set, Greg Brown & company are performing with absolute authority.   The energy level is at an all-time high here with an unrestricted sound evident.   The band is bringin' their A game on this new project and as stated on track five, they're "goin' postal baby!"   I was so impressed with the sharp-shooter singing, out-of-this-world guitar playing, thunderous drumming and solid bass lines.   It was a total team effort by three musicians who simply just came to PLAY and PLAY HARD!   There were some awesome guitar solos & riffs by Greg throughout this recording that would make anyone smile.   Greg Brown brought to you some stand-out vocals that were both piercing & powerful.   Bobby and Eric are the rhythm & beat to which the rest is history.   It is also worth mentioning that there were was some fine background singing that really added a terrific dimension/flavor toward the whole picture.  
Greg Brown and his band bring it home with the closing number "Still Alive" where Greg says "He is still alive' made it out alive!"   This line is an appropriate way to close the show because in the end when all the smoke & dust is cleared, Greg Brown & team are still standing tall.   Ol' Blood N' Guts is what they have for you; nothing more…nothing less.  
By Jimmy Rae (jrae@skopemag.com)
[Rating: 4.5/5]