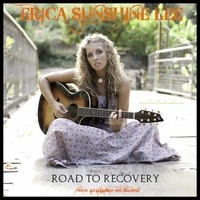 Blessing in disguise is the only way to sum up the career of Erica Sunshine Lee. In true "country mouse goes to the big city" fashion, Lee traded her demure hometown in Georgia for the bustle of San Francisco and brought her lifelong love of singing with her. But in 2008 the economy caught up with Lee and prompted her to career change, turning her "hobby" of singing into a full-time pursuit. Building on that career, Lee has released her second studio album Road to Recovery.
Aptly titled, Road is comprised of 10-tracks of autobiographical tales that serve up universal messages. In both the lyrical subject matter and the delivery of them, Lee spins her yarns from more experience than simple observance. Album opener "Grandpa's Whiskey" is a nostalgic ode to Lee's bootlegging grandfather. The entirety of the track is a boot-kicking honky stomp with her strong vocals over country-fried guitar and twangy strings. "Not Hard to Replace" is Lee's anthem to moving on after hurt and a lyrical nod to "time as a constant healer." Weepy fiddle, acoustic picking and a dour electric guitar foundation bolster the down-tempo mood of the track. It is finally all tied together by Lee's "hurt but rebounding" vocal delivery. Rounding out the album is the catchy and quirky "The Walk of Shame." The track is a cautionary tale consisting of simple acoustic plucks and Lee crooning of waking up in a stranger's bed. Though the musicality is the simplest of the album, it's that simplicity that allows Lee's vocal prowess to stand on its own merit. As with the bulk of the album, the personal relevance and universality of the lyrics are ever-present. It's a formula that serves her well and grants a special type of access to Lee and the ethos of the tracks.
The melding of rock, country and folk nuances gives this album a breadth that spans a myriad of genres and fan bases. The autobiographical nature of the songs also brings an "honesty" that resonates from start to finish. There's something special here making it hard to believe this is only the sophomore outing for the fledgling artist. Expect more to come; I think Lee has only begun sharing her stories through verse.        
by Chris West
[Rating: 3.5/5]