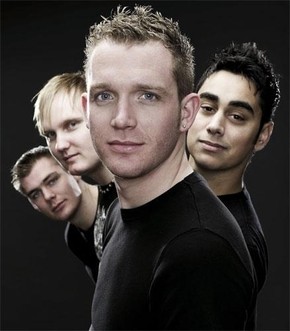 I have decided as the mastermind behind the "Skoped Out" column that we will be running two features per week from now on. To be honest, one just did not seem to be enough so be sure to check us out on Monday & Friday weekly. I am really excited about this next band coming out of Brighton, UK by the name of Two Choices. These guys are buzzing thanks to their single, "Here We Go" and their first US tour starting June 13th in Fort Worth, TX. These guys have been playing music for over 10 years and I can see that this is only the beginning.
Stoli: Where are we talking from today and what were you up to this afternoon?  
Tom – Two Choices: I'm currently at my home in Brighton, UK. It's a seaside town on the south coast of England. Today is a bank holiday Monday in the UK so no everyone's not working and relaxing!
 
Stoli: I think it is smart in this day & age to put out an EP and put out 4-5 of your best songs instead of a whole album.   What was your intentions with 'Have You Heard?'
Tom – Two Choices: We wanted to try and showcase what we're all about and get our stuff out there and heard. It seems that the more people we can get to listen, the more people like us!
Stoli: In regards to your band name, what is Two Choices?
Tom – Two Choices: Hahaha, it came from a night of partying whilst on vacation, I won't go into too much detail about it, but it's suprisingly catchy. Love it or hate it, you'll remember the name!
 
Stoli: Where did you record the songs and how long were they in the writing & rehearsing stage?
Tom – Two Choices: We recorded both the album 'Longest Journey' and our latest e.p 'Have you Heard?' at The Animal Farm in London. We write constantly, but we have a real push in the few months before recording. The songs on have you heard were all written within 6 months of recording. We tend to gig the songs first to see what people's reaction is like before we make any decisions as to whether we'll record them or not.
 
Stoli: Your sound has mass appeal to it as I can hear hit potential on various of your songs. Is that your goal or do you just put out music that feels good to you?
Tom – Two Choices: We're trying to make music that we can imagine people singing along to. Music that we'd like to go and hear played at a show or on the radio. if we don't like it, we don't finish the song. It's a funny process really, our best songs just seem to fall together.
Two Choices "Chasing Rio" MP3
SKOPE IT HERE!
 
Stoli: What was growing up in Brighton, UK like and how did you all come together?
Tom – Two Choices: Brighton is a great great place to live. It's a very cosmopolitan city and is only 40 mins from London by train. I honestly haven't found a place i'd rather live that here. We got together when we were 14 years old in school, just to get out of regular music class and into rehearsals! We were all mates at school going back to when we were 11 so we know each other pretty well by now!!
 
Stoli: What made you decide to offer your debut 'Longest Journey' along with this new album?
Tom – Two Choices: The extra cost was next to nothing and it just felt like a good thing to do for people. It gives everyone a chance to see how our sound has changed over time and there's some songs we just were't ready to say goodbye to just yet on 'Longest Journey'. The response from everyone has been really positive. You get more for your money! :D
 
Stoli: What has evolved in regards to your sound & lyrical content between the two records?
Tom – Two Choices: I think 'Have You Heard?' is more rocky than longest journey. Ash's vocal performance and lyrical content have matured noticeably too i think. As you gain more life experience i guess it must be easier to write lyrics! (don't ask me i'm just a guitarist!).
Stoli: What world issue going on right now is of great concern to you & why?
Tom – Two Choices: The WORLDWIDE trend for guys in bands to wear really REALLY tight jeans is something that concerns us greatly. 501's are as far as any man should ever need ever go. The long-term implications of wearing spray on jeans is something that I think most men don't consider, plus they look ridiculous!
Stoli: I love the song, "I Believe." What inspired you to write that song and will there be a video as well?
Tom – Two Choices: I think that song contains a mixture of things. You've got to stay focussed on what your aiming to do, there will be bad times, people always try and pull you in different directions, but keep going, anything's possible! it's a really positive song i think. And 'woahs' are always a great way to end a song.    There's currently no plan for a video, but i don't see why not!
Stoli: You guys have been together for over 10 years. How do you keep relations & musical ambitions on peaceful terms?
Tom – Two Choices: Everyone knows why we're together and what we're in this for. It's our dream to do this for a living. No matter what, that overrides any arguments or disagreements we have. We've all got good and bad points, you just have to say how you feel and work together. I think sometimes it feels like a marriage! (after all, it's lasted longer than your average marriage here in England!)
 
Stoli: You have toured all over Europe. What are your plans for bringing Two Choices over to the USA?
Tom – Two Choices: This June we're really excited to be coming to the USA for the first time. Our shows are always a lot of fun. We don't take ourselves too seriously, but we're not going to stand at the front and make jokes about people's mom's either! Over the 10 years we've been gigging, you tend to find out how to work a crowd and what they want. We'll drop in a few well-known rockin' covers to make sure everybody feels included and showcase our own stuff alongside them. There are some gigs where it just doesn't work to play an hour of your own stuff in a bar, people just wouldn't listen. But if you show your a good band by playing a couple of covers really well, then you get people on your side and they enjoy our own stuff more!. It's a science I'm telling you!
We've got a real good pr team behind us and will be doing interviews, tv spots and anything else we can to promote the cd. But the real reason we're here is to play shows to people. if any of your readers are in town when we're about, tell them to come down to see what the UK has to offer in terms of rock and roll!
 
Stoli: What is coming up for Two Choices and where can we follow you guys?
Tom – Two Choices: We're always super busy, and who knows, if our first tour of the states goes to plan, maybe we'll come back real soon in a huge bus with the backing of a big label! *crosses fingers*. If anyone wants to hear us then head on over to www.myspace.com/twochoices. If you'd rather ask us some questions or have a chat with one of the band, search for Two Choices on facebook! And if you REEEALLY like what you hear, why not buy the new e.p 'Have You Heard?' from Amazon or iTunes!