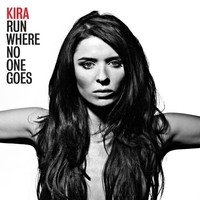 When you look at the acts that dominate radio today in the United States, you notice that women are king. It is artists like Lady Gaga, Katy Perry, Rihanna, and Kesha that make the most noise nowadays. So this must be good news for Danish singer Kira Skov who has just released a seven song EP entitled Run Where No One Goes, right?
Um, not really. Kira has her work cut out for her because she is so unlike those above mentioned ladies. The singer is not your typical pop star. Sure, she looks hot as hell on her EP cover with her long hair and piercing eyes but her sound is a wicked combination of blues and indie rock.
Unfortunately, this blues rock combination isn't what is hip at top 40 radio and that is a shame because, based on this EP's offerings, Kira is one talented lady.
From the get go, Run Where No One Goes demands your attention as the opening track "Hard Rain" sounds like an awesome lost PJ Harvey song. Kira's vocals are as unique as anything you might hear of late as she sounds both spooky and sexy at the same time.
Things get even more interesting with the next track, the guitar-driven "Riders of the Freeway," This song features the EP's best melodies and if features fine work by the singer's band which she has dubbed the Ghost Riders. Interestingly, the track was supposedly written on a road trip the singer took through California and if so, the Danish woman nails Americans' love for cruising songs.
As for the bluesier numbers, Kira sounds a little like Janis Joplin on "Kings Kitchen" as she wails about the bad things in life and "learning to let them be." Her performance on that track is a fine setup for the stunner of the set, the intense "Save Me." Kira's lyrics on this one are obviously personal as she recalls one of the darker moments in her life when her loneliness was almost too much to bear.
Run Where No One Goes includes three other songs that are fine listens mostly because Kira's voice is so unique. It is obvious from hearing the whole EP that she would be a great person to see live.
And yet, whether or not the normal top 40-loving American will warm up to her remains to be seen. Regardless, she is a true artist that most serious music lovers should embrace.
Author – Todd Sikorski
Artist website – http://www.kiramusic.com
[Rating: 4/5]