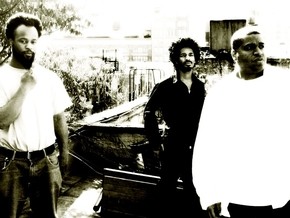 No stranger to the New York underground scene, No Surrender is gearing up to release their intricate sophomore effort Medicine Babies (ZerOKilled Music, Fall 2010). Blending hip-hop, electro, soul, synth-pop, and indie-rock, No Surrender's spanning sound is genre-bending.
Enlisting European production team Radioclit, TV On The Radio's Tunde Adebimpe, New York fixture DJ Monica Sharp, and former Tricky muse Costanza, their guests are equally as diverse, and equally as interesting.
Free MP3 of "Godda Get It," Feat. Radioclit:
No Surrender's members, Seraphim, Steeples, and Gnomad, banded together during the 90s, co-hosting the famous Revenge of The Muse parties at venues such as Brownies, CBGB's Gallery, and Baby Jupiter, before Guiliani's New York took its stronghold. Sharing the stage with Mike Ladd, Antipop Consortium, Stiffed (Santigold's former band), and Apollo Heights, they proved to be a New York staple.
No Surrender will be previewing tracks from Medicine Babies at Cameo in Brooklyn on Thursday, June 24th.