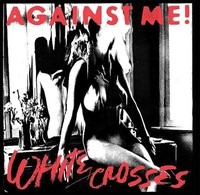 Let's face it, punk rock bands have it tough as the second they achieve any success in the mainstream media they get labeled sellouts. The Gainesville, Florida based Against Me know this well as it got slammed by long time fans when it released New Wave, its first record with a major label, back in 2007.
That backlash disappointed the band and its front man Tom Gabel initially but things looked a bit brighter as that album received very good reviews from the press. (Spin magazine even named New Wave the best record of 2007.) Better yet, Against Me gained plenty of new fans because a song off that album, "Thrash Unreal," was a hit on modern rock radio.
With this new success, it comes as no surprise that the group's new album White Crosses is more straight ahead rock and less punk. (And yes, this means those fans that cried "sellout" before will scream it even louder now.)
This is not necessarily a bad thing though. White Crosses is Gabel and his bandmates–James Bowman, Andrew Seward, and George Rebelo–maturing and becoming a more diverse band. In fact, maturity is a big aspect to the new record as most of the songs here are rather topical or reflective.
Need examples: the title cut is about abortion; "High Pressure Low" mentions Robert McNamara and the Vietnam War; "Because of the Shame" deals with the loss of a lover; and "I Was a Teenage Anarchist" plays with how one's ideals change over time.
This subject matter might be oft-putting for some but it is intriguing, for the most part,   because the lyrics are propped up with driving guitars, fast drum beats, and Gabel's earnest vocals. The title track and "I Was a Teenage Anarchist" are songs that fit this description perfectly and this added with their addictive choruses make them instant Against Me classics.
That said, Against Me tinker with its sound a bit every once in a while on this album and it has only mixed results. "Because of the Shame" and "We're Breaking Up" are the most mainstream sounding songs the band has written yet but only one sounds fresh.
The former song features a piano that works great in conjunction with the loud guitars but the latter track's slower tempo and familiar chorus make it sound like a cover of a Goo Goo Dolls ditty.
Overall though, White Crosses can't be dismissed as Against Me's attempt at rock superstardom. There is still a punkish energy evident here. This is most evident in the next to last track, "Rapid Decompression," which almost demands the listener to start one's own mosh pit and Gabel's vocals throughout the album which are best when he sings at the top of his lungs.
White Crosses, however, is not as strong from beginning to end as 2007's New Wave or even some of the band's earlier albums. Nevertheless, it is notable because it shows the band is confident enough to write good songs like "I Was a Teenage Anarchist" without worrying about those sellout claims.
Author – Todd Sikorski
Artist website – http://www.againstme.net
[Rating: 3.5/5]