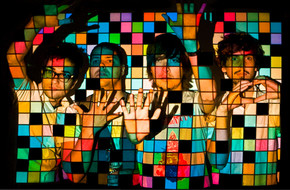 Last Gang Records is pleased to announce the US release of the latest full-length from Toronto's Meligrove Band. Shimmering Lights, out September 21, is the highly anticipated follow up to the band's critically-acclaimed 2006 album, Planets Conspire. The band will release the first single from the record, "Halflight," as a free digital download.
"Halflight" Single Available for Free Download Here
Meligrove Band is: Jason Nunes (vocals, guitar, organ), Darcy Rego (vocals, drums, guitar), Michael Small (bass), and Brian O'Reilly (guitar, synth). Together they make music that is heavy, yet pop; it's noisy, but it's full of melody. Catchy hooks sit alongside violins, organs and brass, wired through any number of guitar pedals – all atop a pounding, fuzz-bass rhythm section.