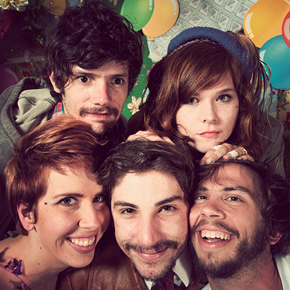 It can't be easy trying to start your band in a scene populated by metalheads when your band plays indie pop songs complete with a xylophone and mandolin.

The idea of it sounds like a real daunting task. However, for The Equines (formerly known as Maid Mosephine and The Equines), the challenge led only to start of their own little scene in Sarasota and the creation of Finch House Records.
Since their beginning, The Equines have played shows non-stop all around Central Florida, the Tampa Bay area, and of course Sarasota with national acts like Foxy Shazam and The Terror Pigeon Dance Revolt dressed up like wolves, Prince, Flavor Flav, Jason from Friday The 13th, and other last-minute Halloween costume ideas. We got to catch up with the band before one of their shows.
When did you guys form?
Erin Murphy: We played our first show as our current line-up in October 2008 down in Sarasota. I started out going to open mic nights with a huge group of other local musicians the summer before and met Greg and Andrew; we were all writing songs but it seemed like we were each others only audience. Mikey, the drummer, is my brother so he really didn't have a choice.
It was difficult to find people to book a new band on existing shows when we had our lineup together, but there were a few folks in town that were kind enough to give us a chance. There were a lot of heavier hardcore and rockabilly punk bands, so it was a bit of a challenge to find a good fit for our music. We put together shows with our fellow open-mic'ers and then more and more great bands came out of the woodwork. There were a lot of great bands here before but I think their focus was to just get out of town.
How did you get into mandolin?
Jeannine Blewitt: It was by fate. I originally was going to play ukelele, but we had trouble making it loud enough. Before one of the first shows I started playing with the Equines, because I started playing with them after the EP release on November, and I just learned mandolin before the show.
I always wanted a reason to play it, so now here I am.
Finch House Records?
Greg Ferris: Finch House is where we live. It's all of us, and Brian from Fancy Rat.
Michael Murphy: It's a big D.I.Y. type of project.
EM: It's friends helping friends. We just help people learn how to "do it". It's growing now, and we have other bands in town wanting to take part.
We have Devin Robinson Band, The Equines, Fancy Rat, Tiny Ensemble, and in conjunction with Blue Medusa Studios just released a two-disc, 38 band compilation called The Noise Ordinance on Finch House Records, which was all bands from the 941 area code.
Who are definite influences on you guys?
EM: My influences are growing up listening to smooth jazz and really shitty trance and not knowing anything about modern or classic rock n' roll. I'm kind of learning everything backwards, so I don't know what I'm doing at all.
GF: I grew up hearing a lot of good music from skate videos. The Unicorns came here when I was a senior in high school, although we didn't go to see their show when they came. We thought "They'll be back", and they broke up right after that.
We finally saw them years later as Islands, and Jamie [Thompson] told us that our original band name Maid Mosephine and the Equines was too long, so we changed our name to The Equines just because of Jamie. He's the Ringo to our Marge.
MM: The Equines is much more easy to remember. I remember telling twelve people what our name was, and they kept forgetting it.
Are you guys working on a new release?
EM: We'll release our second EP some time this Summer. We expect it to be a handful of our more recent stuff and our evolved sound thats more reflective of how we sound live.
Compared to the Hearts on Faces EP released in November, how different is it?
GF: We added some omnichord, noise makers, and are working with new people. It's going to be half Equines songs, and half collaboration/remixes with the friends we've met! Then we're heading off on a summer tour with a few nights in NY.
EM: We had such a tight time-line on that last EP, and we didn't really get a chance to go back and add in a lot of the things that would make it more true to who we are. It's really cut and dry.
How are your live shows going? Specifically the wacky outfits.
EM: Sometimes we have themes, sometimes we don't. Tonight, it's Prince-inspired outfit. I really love strange things.
MM: I've worn the same thing for the past twelve shows, I haven't washed anything!
GF: The wolf hat has its own following.
EM: It has its own Facebook page, and its doing a solo project.
MM: Someone in our e-mail list said "Oh, that dude in the wolf hat was soo sexy! We need to do it!", or something to that effect.
EM: We had half the crowd dancing on-stage with us at a show at Eckerd College, and it was one of those out-door platforms, so everything was bouncing and the microphone was going all over the place!
JB: Wild and crazy!
EM: No, we're really not that crazy.
The Equines currently have dates all around Central Florida. You can currently download the Kill Paris remix of their song "Out to Pasture" along with their Hearts on Faces EP… for free!