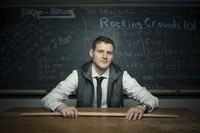 The Havertown, PA rap artist is back with a fourth studio album and a new message that reads: Trust Me, I'm A Rapper.   Skip-Dawg, aka Dann Furia, is coming off an exciting & motivational album titled We Will Rise that featured the hot, slammin' joint "Skip To The Floor".   Not to mention, "Skip To The Floor" was put into rotation on BigFM Germany, which was syndicated in 24 cities throughout Germany.   And to fuel this fire even further, Skip was also coming back from five major lung surgeries with his lungs collapsing dozens of times.   With all this adversity surrounding the Dawg, he still found the strength to persevere through it all by stepping up to the mic and creating We Will Rise.   This is a lot to live up to, but I feel Skip-Dawg is up for the challenge and ready to bring it on the new record.
Skip-Dawg featuring Lil Wayne "Buttons Unbuttoned" Mp3:
The magic to Skip's success is how he blends together catchy hooks 'n' beats with layers of pop & R&B elements so flawlessly.   This winning formula carries on into the new record but with a bit of a different focus.   The new direction here seems to be geared more toward a heavily drenched hip-hoppin', dance/pop vibe.   All nine tracks on the CD feverishly display radio-friendliness and club-worthiness at their finest.   Track one, "Yup I Agree", features pop-rock sensation Dave Patten where you hear Skip rhymin' to the back-beat of a light pop/rock flow.   This song I can picture hearing on a Hot 100 or Top 40 radio station right now!   Next up, "Brutally Beautiful", features Rymedy and has a very cool dance-pop beat.   I sense that this bounce-worthy track is coming to a club near you very soon!   Skip-Dawg brings in some nasty beats to match the numerous sexual references/innuendos on "Shape Shifter".   The ladies will definitely appreciate this number as Skip-Dawg spills his most intimate of feelings in an aggressive yet overly friendly fashion.   You might want to put the kids to bed on this one but "Shape Shifter" is a jam that ALL adults can get down to no question.   The Skip man is serving up some fierce energy and incredible hypeness on "March Song" and get ready to move it & lose it as Skip-Dawg busts it out on "When I Take Over" featuring Double A.   If this isn't enough for you then maybe having rap superstar Lil Wayne on the track "Buttons Unbuttoned" might do it.   Whatever it takes to get you pumped up, I think Skip-Dawg has got you covered from A-Z on Trust Me, I'm A Rapper.
The only spark that was missing from this record was a fun "Skip To The Floor"-type cut.   This is still my all-time favorite song, hands down, and I would have loved to have heard a "Skip To The Floor Part II".   Maybe you can help me out with that next time Skip because that song is the friggin' bomb man!   On a serious note, when the former Princeton grad and college athlete isn't writing lines he is busy writing stories, memoirs and blogs of his own.   Dann Furia also tutors high school students for SAT prep and high school math & science.   Mr. Dawg's lesson is now complete and I hope that you learned a lot from this 9-track session.   In the end, I hope that you do trust Dann Furia aka Skip-Dawg now because he is for real…he is not kiddin' around…and he's not foolin' anyone…he is most definitely a rapper on a mission.   For more on Skip-Dawg and his new release, SKOPE out www.skip-dawg.com.  
***CLASS DISMISSED***
By Jimmy Rae (jrae@skopemag.com)
[Rating: 4/5]