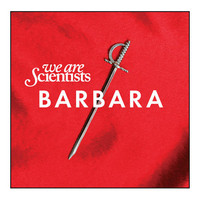 Barbara is the fourth release by this songwriting duo of Chris Cain and Keith Murray, following the success of Brain Thrust Mastery, and With Love And Squalor.   Drummer Andy Burrows was enlisted for this album.   The single Rules Don't Stop was picked from the material on the disc. The group has been on tour in the U.K. and Europe promoting this newest release.
Although the Indie rockers of W.A.S. hail from California (and are now based in New York), the disc reminds me much of the 80's Brit rock, with a little bit of punk and new wave added for good measure.   Don't be surprised if you hear some of these tunes being used in movie soundtracks.  
Jack & Ginger is a relationship song, about the drink (I think) and not having anything to do with one like the one between Jack & Diane. Pittsburgh (Yes, a song with Pitt as the title) is a melodic piece based on harmonies. Foreign Kicks is a slick ballad with some hypnotic keyboard vibes and vocals that match. Ambition explores an explanation of sorts about competition.  
The group is definitely not a follower of trends.   W.A.S. take a quasi-techno approach to everything real or imagined. The stuff is catchy, and I can't for the life of me figure out why.   Maybe it's the harmonies, maybe it's the craziness, and maybe it's the W.A.S. relationship to the universe, as we know it.
Listen for yourself, and discuss among yourself.   Yes, that's exactly what I mean!  
By R.M. Engelman
[Rating: 3/5]