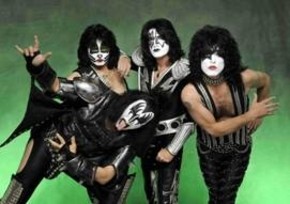 Continuing its ongoing support of aspiring artists, Guitar Center, the world's largest musical instrument retailer, today announced that it has teamed up with rock and roll icons KISS, and leading digital media company for entertainment, Eventful, for a revolutionary music program: Guitar Center On-Stage, a competition that provides unsigned bands and artists the career-altering opportunity to open for KISS on their upcoming North American tour, The Hottest Show on Earth.
[youtube 5F6gH3NL7nQ nolink]
One band from each of twenty-two markets across the United States will be chosen to play at a KISS show. At the conclusion of the tour, KISS will choose the best of the twenty-two bands to receive the grand prize that includes a $10,000 Guitar Center shopping spree. Now through September 1, 2010, bands across the country are invited to register at www.GCOnstage.com.