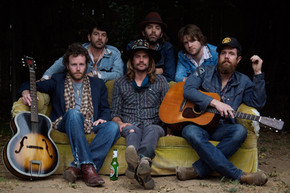 Fresh off a tour with The Avett Brothers, the debut album from Truth & Salvage Co. will be released on May 25. This LA-based band was mentored and produced by the legendary Chris Robinson of The Black Crowes, and their album has drawn early comparisons to the likes of The Eagles, Fleet Foxes and The Avett Brothers.
Songs like "Pure Mountain Angel" receive standing ovations for its   timeless melodies and sweet four part harmonies, while songs like "Call Back" reveal the band's diversity.
[youtube k3F_UgBx4ak nolink]
One track in particular contains a contribution from one of pop music's biggest new stars. Katy Perry contributed lyrics to the album track "Old Piano" will sleeping on a sofa. Truth & Salvage Co. member Tim Jones comments:
"She was dating my friend, James Valentine, who plays guitar in Maroon 5. We were up at his house one night, and she was asleep. He had a piano there, and it was late. I started playing and working on a song. I just had: You've been playing me like an old piano/ all the notes out of key.
"Katy woke up and said, 'What's that you're playing?' I said I was working on a new song but all I have is You've been playing me like an old piano/ all the notes out of key. To that she responded: Singing the right words over the wrong melody. And went back to sleep … She contributed those words."
"Old Piano" MP3 Stream!