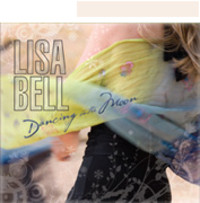 Lisa Bell is ready to ring in the summer with her delightfully exquisite new record, Dancing On The Moon.   This singer/songwriter from Colorado has an incredible vocal presence on this new album.   Bell digs down deep to bring you spellbinding lyrics and an emotionally-drenched performance that will leave you wanting more.   Full of feeling & devotion, Lisa sings with such a burning passion inside her.   With an excellent singing voice and a true knack for writing heartfelt songs, Lisa Bell is taking her music career to the next level with Dancing On The Moon.  
Along with Bell, guest musicians are also featured on this CD such as: Bob Story on electric guitar, Mark Oblinger on acoustic guitar & Christian Teele on drums/percussion.   Each artist added a wonderful dimension to the elegant sounds of Lisa Bell.   The layering was perfect and I have to say that there were some very nice 'n' cool guitar moments.   Each player complemented one another extremely well here and further added to that Lisa Bell appeal.
Lisa blends together an exuberant amount of styles that will satisfy your musical cravings.   I'm hearing elements of roots rock, light rock, jazz, blues, country, pop and soul.   The overall sound has a very mellow aura to it with a very light 'n' airy approach.   Pleasant music and pleasing vocals give way to the sensual & soothing side of Lisa Bell.   This artist offers you tranquil music to put your mind, body and soul at ease.  
Bell is also taking an innovative approach to record making because she decided to use A424 RA Music tuning versus the standard A440 frequency.   The purpose behind this is that this particular frequency is supposed to have healing effects toward the body & brain.   So…you're not just hearing any other album; you're actually being healed!   Everyone will have different experiences when listening to Dancing On The Moon, but there is no question that everybody will be feeling this disc.  
When it comes to the actual tracks on the CD, my favorite song was "Stand Up" because it is such a fun-movin' number that will make you want to get up and get down!   The tables are turned and the mood is completely changed around on song 10, "Fire and Rain".   You get a sense of a melancholy vibe coming straight from Lisa Bell's heart.   Lisa amazingly goes from happy to sad in such a convincing fashion.   Full of compassion and always singing from deep down inside, Lisa Bell has a lot to sing for and always plenty to sing about.
This singer/songwriter appears to be a special artist that has a lot to offer.   A subtle charm is evident as I listen to the music and the voice of Lisa Bell.   Audiences will grow once they get a load of these compelling & relaxing tunes for the soul.   For more on this Boulder, Colorado-based musician and her brand new release, SKOPE out www.lisabellmusic.com.  
By Jimmy Rae (jrae@skopemag.com)
[Rating: 4.5/5]