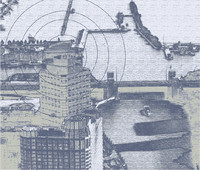 Formerly known as Trio in Stereo, Remaindermen is their new name and playing fresh music is their game.   This five-man crew has come a long way from playing college parties while attending Indiana University in Bloomington.   The band now resides in the Windy City as they bring to you Border States under their brand new label Nowhere Records.   Fresh start and appearance all around the board for this Chicago-based group!
The best part is that even though Remaindermen have changed up the scenery a bit; they still remain true to their home-base locale.   That crazy atmosphere of just partying & havin' fun while in college is still evident when you listen to the new record.   Although the music has evolved BIG time for this band, Remaindermen still hang on to that good-times & feel-good charm.
The pop/rock group is made up of: Chris Kalodziej on drums, Mike Nelson on guitar, Marc King on bass, Logan Cradick on keys and PJ McMahon on lead vocals.   They also have stellar accompaniment from the horn section of Mike Kapunis & Mike Kalodziej as well as Andy Aronis on cello.   Each player complements one another brilliantly on this new album.  
The overall feel of this album is very natural & organic-sounding.   There is a sense of a straight-to-the-core demeanor that is 100% real & raw.   There is nothing fancy about this group as they bring you their own version of garage band appeal.   The record exhibits a full sound that is fun, lively & hip.   On track three, "White Lodge", Remaindermen are going back to their jam-band roots with a wonderfully orchestrated instrumental.   Remaindermen actually started as an instrumental band during their university days and even released their debut EP, Everyone Here Looks Familiar, in 2005 while attending IU.   The closing song ended on a peaceful yet highly energetic note on "Tides In".
Following up with their 2008 release of Bury It To Dig It Up, Remaindermen are well on their way to becoming a staple in the music community.   With a catchy rock-pop sound that sounds alternative and progressive at times, this Windy City quintet is sure to blow you away!   For more on Remaindermen and their new release, Border States, SKOPE out www.nowrec.com/remaindermen.   Be on the lookout for this original 'n' creative bunch from Chicago!  
By Jimmy Rae (jrae@skopemag.com)
[Rating: 4/5]